Singer Kanwar Grewal Inaugurates Mini Forest Plantation Organised by RoundGlass Foundation at Derabassi, as Part of Van Mahotsav Celebrations: RoundGlass Foundation organized a plantation drive in Sadhanpur village, Derabassi on Tuesday as part of Van Mahotsav celebrations.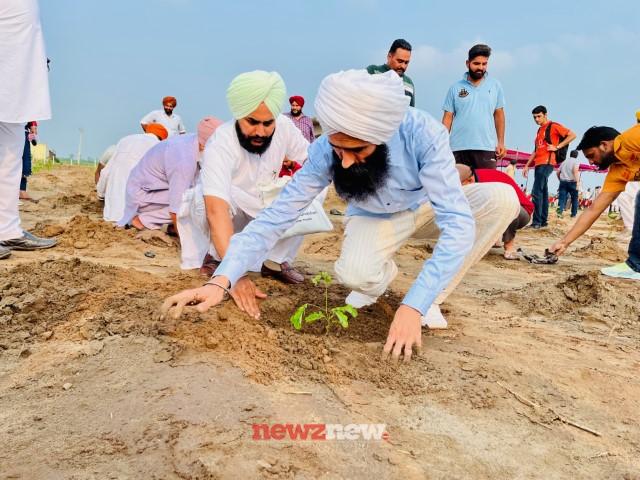 Singer
Kanwar Grewal
graced the occasion with his presence and inaugurated the plantation drive.
Kanwar Grewal
has in the past collaborated with the
RoundGlass Foundation
and created a mini forest at his farmhouse in
Todarmajra village
. Speaking at the event Grewal said, "A tree can help us take care of the three concepts that Guru Sahib mentioned – air (the guru), water (the father) and earth (the mother). Every time I see the plants that are part of the mini forest created at my farmhouse, I realize that I have been given back such precious trees of Punjab that might have been lost. I am truly grateful to Round Glass Foundation for creating mini forests in Mohali and other districts of Punjab as part of their efforts to regreen Punjab."
RoundGlass Foundation is celebrating Van Mahotsav by planting 100,000 trees and creating 75 mini forests in Punjab between July 1-17. It is extending the week-long festival to make the most of the planting season. The plantation drive is part of RoundGlass Foundation's Plant for Punjab initiative. Many of these trees are native to the state and will help in rejuvenating and restoring the local biodiversity. Reforestation activities not only help in mitigating climate change by enhancing carbon sequestration through trees, but they also help in regulating water cycles, preventing soil erosion, and desertification, and restoring wildlife habitats. In addition, they improve the health and livelihoods of local communities.
The Foundation is hosting plantation events and drives in five districts – Moga, Faridkot, Barnala, Mohali and Sangrur. Mr Vishal Chowla, Leader, RoundGlass Foundation, expressed his gratitude to   Kanwar Grewal for supporting and participating in the tree plantation drive. "The local bodies and the state government, and the people of Punjab, have always been generous in their support for all our reforestation activities. Our goal is to plant one billion trees in the state to help restore its forest cover."
Already, more than 800,000 trees have been planted and more than 600 mini forests created in 800 villages of Punjab covering 18 districts under the Plant for Punjab initiative.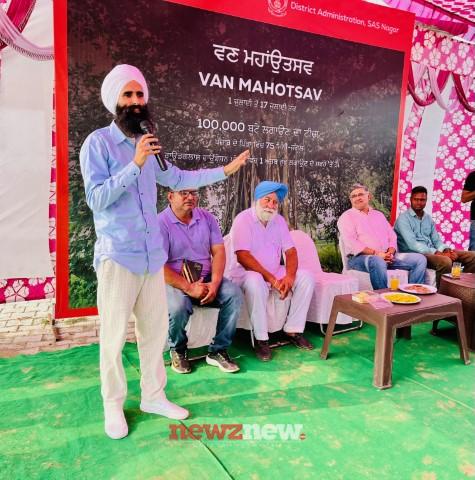 Elaborating on the initiative, Mr Chowla added: "At RoundGlass Foundation we mobilize citizen power by creating partnerships with Panchayats, communities, youth clubs and eco-clubs to introduce responsible and sustainable practices to restore Punjab's green cover. About 10,000 volunteers are associated with this initiative and 4,000 people have been employed since its inception in 2019. Under this initiative, we plant various native trees of Punjab — such as Van, Peelu, Roheda, Desi Beri, Reru, and more — which are on the verge of extinction. Inspired by this initiative, last year about 80 farmers and private individuals from different parts of the state created mini forests on their farmland with help of RoundGlass Foundation."
Van Mahotsav is an annual tree-planting festival, which was started in 1947 by M S Randhawa, a civil servant and botanist. Since then, the tradition of celebrating Van Mahotsav and planting trees has continued. The festival is hosted across India in the first week of July, just at the onset of the monsoons when the soil has enough water content to support plantation activities.
RoundGlass Foundation hosted similar plantation drives at Moga, Faridkot and Barnala, which were inaugurated by senior officers from the local administration.