Infosys Foundation announces winners of the Aarohan Social Innovation Awards : Infosys Foundation, the philanthropic and CSR arm of Infosys, announced the winners of Aarohan Social Innovation Awards, 2018-19.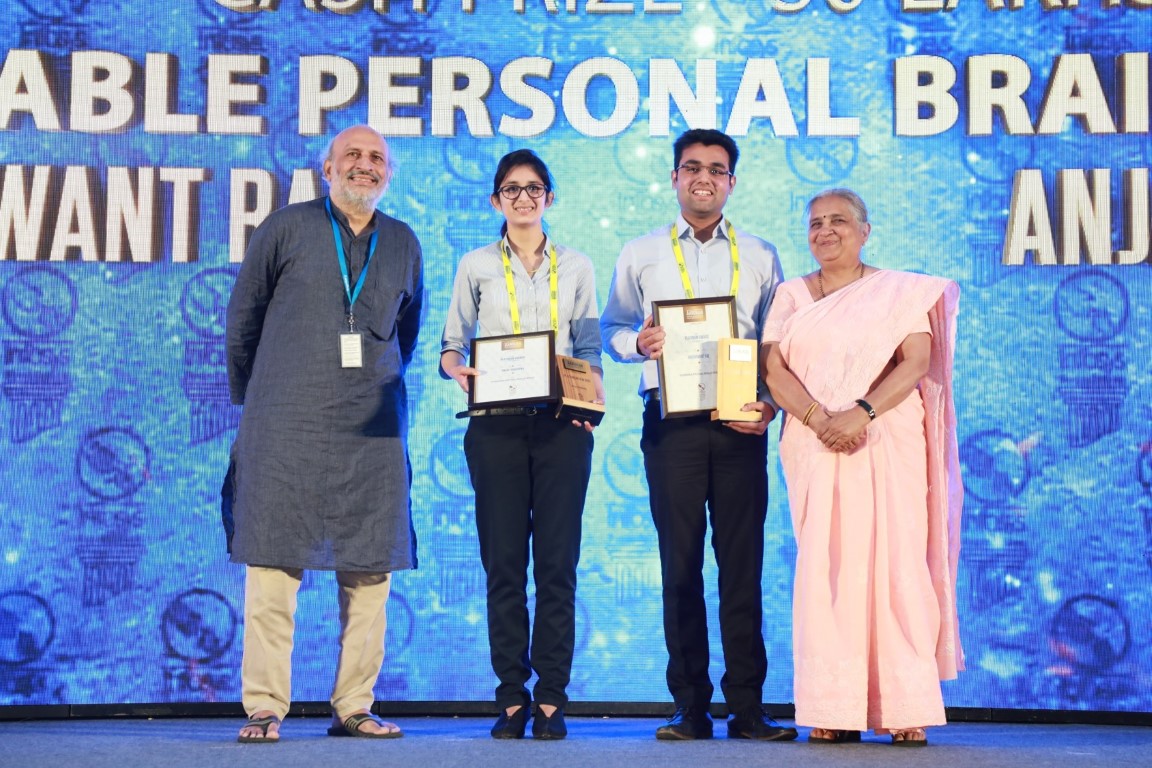 Khushwant Rai and Anjali Khurana from Jalandhar have won Platinum Award under Education category for creating an affordable personal braille printer, the announcement of which was made by. The team received prize money of Rs. 30-lakh.
The Awards were established with a vision to recognize and reward individuals, teams or NGOs that are developing unique solutions for the social sector that have the potential to positively impact the underprivileged in India, at scale.
Aarohan Social Innovation Awards 2019
The Foundation identified winners across six award categories: Healthcare, Rural Development, Destitute Care, Women's Safety & Empowerment, Education & Sports and Sustainability. The winners were selected from a pool of more than 900 submissions by a distinguished jury comprising Prof. Trilochan Sastry, former Dean, IIM Bangalore; Padma Shree Mr. Arvind Gupta, an Indian toy inventor and science expert; Prof. Anil Gupta, visiting faculty member, IIM Ahmedabad, a globally renowned scholar of grassroots innovations and founder of the Honey Bee Network; Prof. GVV Sharma, Faculty member of the Department of Electrical Engineering and Coordinator, Teaching Learning Centre, IIT Hyderabad;  Mr. Sumit Virmani, Senior Vice President and Global Head – Marketing, Infosys, and Infosys Foundation Chairperson and renowned author Mrs. Sudha Murty.
Winners:
The other Platinum Award in Healthcare was won by Prashant Gade from Madhya Pradesh for a low-cost myoelectric prosthetic arm called 'Inali Arm',
The Gold Award Winners are as; for Sustainability- Mayur Ramrao Ladole, Gaurav Ghanshyam Dastane and Nilesh Lakshman Jadhav from Maharashtra, for a novel water-disinfecting hand pump and for women's Safety & Empowerment- Samagra Empowerment Foundation from Maharashtra, for the 'SmartLoo' platform.
The Silver Award Winners are for Destitute Care: Sumanth Mudaliar and Vishrut Gaurangkumar Bhatt from Gujarat, for 'Handicare', a mobility device for the specially-abled.
For Healthcare: Aakash Bhadana, Vasu Kaushik and Rahul Gupta from Haryana for 'Caeli', a smart automated drug delivery and anti-pollution mask for respiratory patients
The Bronze Award Winners for Rural Development: Sharwan Kumar Bajya from Rajasthan, for 'Wider', an affordable weed removal machine that processes weed into green manure
For Education: Sanskriti Dawle from Karnataka, for developing 'Annie', an audio-tactile device to address low braille literacy in India
The Jury Special Mentions for Sustainability: Saathi Pads from Gujarat, for making 100 percent biodegradable and compostable sanitary pads from banana fibre.
For Education: Chirag Bhandari, Siddharth Gala and Kavya Ananth from Maharashtra, for 'Yelo Bag', a school bag designed to convert into a writing desk.
For Rural Development: Karibasappa MG, Dayananda K and Anil Kumar MK, from Karnataka, for developing a solar insect trap that reduces the usage of chemical pesticides in agriculture
In Women Safety and Empowerment: Ajinkya Vikas Dhariya from Maharashtra, for developing 'PadCare', a decentralized sanitary pad sterilization, segregation and disposal unit.
Felicitating the winners, Sudha Murty, Chairperson, Infosys Foundation, said, "The Aarohan Social Innovation Awards were conceived as a means of creating impactful change at scale, by encouraging people to address social challenges in India."
Furthermore, to help incubate and scale their innovations, the platinum and gold award winners are also eligible for an 8-week residential mentorship at IIT Hyderabad, costs of which will be jointly sponsored by IIT Hyderabad and the Infosys Foundation.