–          CMMI Chandigarh holds National Maritime week celebrations
–          Chandigarh to have chapter of The Nautical Institute London soon
newznew (Chandigarh) : The Company of Master Mariners of India (CMMI), Chandigarh Chapter organized a seminar on "Connecting India through Shipping" here today.
Inland waterways had never been on the priority lists of successive governments in the country and all energies have gone into land or air transportation systems which are overburdened and unable to handle the growing traffic, said Dinesh Kumar, Associate Editor of The Tribune who was the chief guest on the occasion.
India is strategically located in the Indian sub-continent and has about 7516 kilometres of coastline and is serviced by a total of 182 ports, 12 of them under a special status as Major Ports, handling 90 per cent of India's international trade in terms of volume and 77 per cent in terms of value is moved by sea, he said.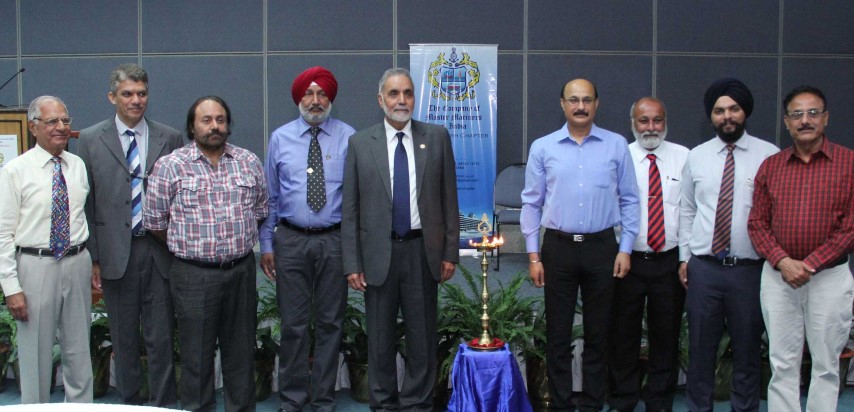 However, there had been lack of information and awareness about maritime dimensions and the way it can contribute to the growth of Indian economy.
Dinesh Kumar informed that in many neighbouring counries dependence on water ways for transportation has received equal attention where 47% in China, 40% in Europe and 35% in Bangladesh, the transportation is dependent upon waterways.
Capt Sivaraman Krishnamurthi, who had been the only world President of The Nautical Institute London, an international body of maritime professionals with presence in 110 countries, in his keynote address said that thanks to the active work by CMMI Chandigarh, the tricity area is developing into a shipping hub with many international shipping companies also setting up their base here.
Though the government has started focusing on hitherto neglected port infrastructure,  the development of inland waterways alone would contribute 2 percent to national GDP, Capt Krishnamurthi said.
Looking at the talent pool and strong presence of seafarers in Chandigarh, he announced that very soon the city would have the presence of The Nautical Institute of London.