The Intellectual Farmers' Forum laid recommendations to end the deadlock between the central government and the farmers: The Intellectual Farmers Manch (IFM), Chandigarh appealed to the Government and the farmers to initiate the revised dialogue to put an end to the human and material losses being faced since June 2020.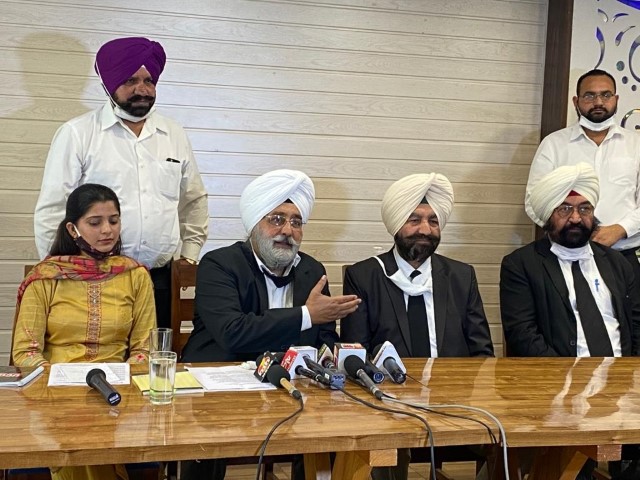 The appeal was made with reference to the three farm bills which triggered the agitation.
While addressing a press conference, Jagmohan Singh Saini, President, IFM also the former Additional Advocate General, Punjab said manch comprises of such farmers of Punjab who have an intellectual as well as legal background. They have carried out a detailed analysis of the bills and their possible impact on the legal as well as commercial front and have come up with certain observations.
Saini said that the IFM opined that the Farmer Produce Trade and Commerce (Promotion and Facilitation) Amendment Act 2020 clearly establishes the option for farmers to sell in open market as well as the current market system. The act does not mention that Mandi's will be abolished which clearly establishes that the government is legally bound to continue with them.
Farmers (Empowerment and Procurement) Agreement Act 2020 has provisions to ensure that the contract can be made only on the produce and not the land, hence the land of the farmer remains safe by law. The manch observed that contract farming has been done in Punjab through sugar mills for the last many decades but no forcible occupation of land has been reported. The law and the tradition will remain unchanged in this regard.
The Essential Commodities (Amendment) Act 2020, has legal provision for government intervention to control prices if they reach a certain threshold. In a surplus produce market like India traders can no longer profit by hoarding. The amendment is designed to give incentive to the private sector to open cold storages so that the produce of farmers is not wasted. It will not affect the wheat-rice produce in Punjab since it is concerned only with four products.
The IFM listed the actions being taken by various institutions to convince the farmers to stop the agitation and sit for talks to address issues.
The IFM urged the Government to give an  assurance to continue with the system of procuring crops on Minimum Support Price (MSP) as has been the unwritten norm for many decades now; it would  help bring down the deficit.
The manch also demanded that the state government set in motion the process of debt waiver of farmers as was promised during the election mandate of the ruling Congress party in the 2017 state assembly elections.
The manch urged the central government to take appropriate action to build agriculture related infrastructure and factories in the state to give momentum to agricultural reforms.
Such actions by the state and the central government will ensure that maximum benefit is accrued from the new legislation.