Interact Club of Sri Aurobindo School installation: A new team of Interact Club of Sri Aurobindo School of Integral Education was installed here today by its sponsoring Rotary Club of Chandigarh's president Rtn Surinder Paul Kaur.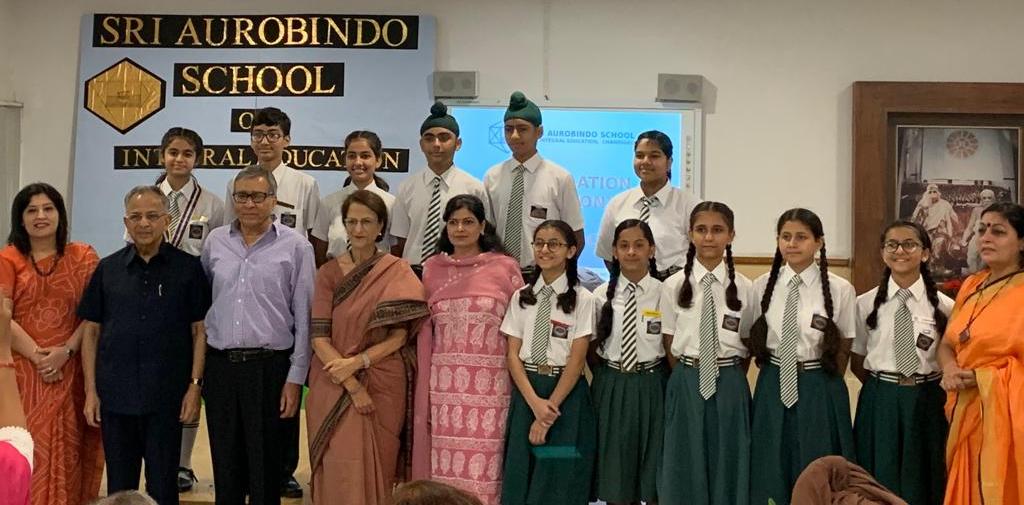 Vani Adalakha took over the reins from her predecessor Jagriti Singh.  The new team includes Nakul Bisht, Vice President, Eshmeet Singh Secretary, Raj Pratap Singh, Joint Secretary, Bhuvi as Treasurer, Anshika as Sergeant at Arms, along with Directors Nikita Saini,  Muskan, Bhumika, Verisha Tagra, and Veronica Tagra.
Rtn Pres Surinder Paul Kaur motivated the young Interactors to work for the betterment of society with the virtue of leadership, forbearance and benevolence.
Former world president of Rotary International Rtn Rajendra K. Saboo complimented the school management for preserving the Indian cultural values amongst students and preparing them as socially conscious citizens.
Earlier the trees were planted in the school premises under the supervision of Prof. Rajnish Wattas of Tree Loving Society.
School Chairman Arvind Mehan applauded the efforts made by the students and encouraged them to develop their personalities through participation in projects for the good of the society, and by remaining conscious of the world around them.
School Principal Garima Bhardwaj informed that the School is celebrating next month for inter-school competitions like shloka recitals, Spell-Bee competition, Auro Music Jam and shall also be participating in TB-free Chandigarh project initiated by Rotary Club of Chandigarh.