Interactive Session with  Para Athletes on UN Disability Day Held in Chandigarh: On the occasion of UN International Day of persons with disabilities, an interactive session was held , today,  at Press Club, Chandigarh. The session was organised to discuss Parathletes who  have performed exceedingly well in various sports at National and State Level, and the challenges & difficulties  faced by them for being differently abled along with the lack of funding & resources unavailable to them. The interactive session was held in the presence of Ms, Renu Mathur , social activist and Ms. Saroj Bishnoi.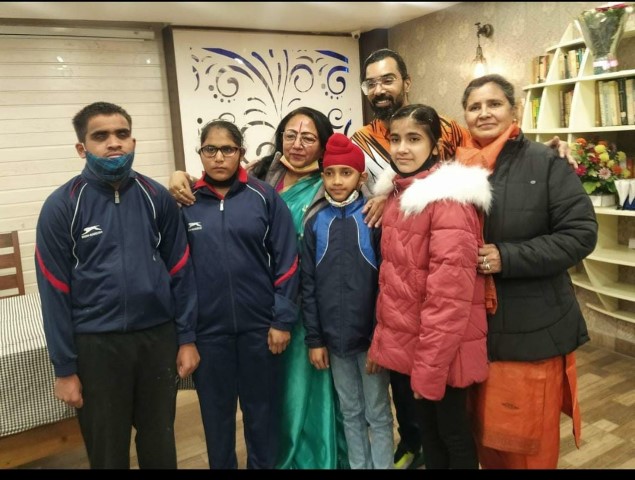 The buddingly talented para Athletes included , Chahvi , 11 , born deaf  , has won silver at National level in Taekwando, Harpreet, 12 ,  also born deaf and dumb, has won Silver & Bronze in Taekwondo at Open National & State level, Usha, 16, blind by birth, performed, immensely well in all categories of sports, has won silver and bronze at State level in Sprint, Saleem, 16,  also Blind by Birth has won silver & Bronze at State and National level in Sprint respectively . Last,  but not the least , the very talented Jeetin Bishnoi , 37, born with cerebral palsy,  rose up from various challenges and rejections and today is a national and international Para Athlete in Taekwondo and Sprinting. All the Atheletes have performed extremely well in their respective areas of sport.

The main highlight of the program was how they rose above all difficulties and what gave them hope and inspiration to keep playing for bringing laurels to the country.

Sharing her views, renowned social activist Renu Mathur said, "I truly  believe that a person uplifts oneself by helping others in need.  We must recognize the efforts of Para athletes and give them equal respect and position which they so truly deserve as athletes. We must feel inspired by the will power and determination of Para Athletes and their parents.  We must embolden them to do better and touch heights .  
 
On the occasion, Ms .Saroj Bishnoi , said , "As a mother I have seen my child go through various challenges , that how para athletes are often neglected and not given equal status . As a society we should not defame them, rather support and help them achieve their desired goals in life. " It becomes an inner happiness when children with disabilities are encouraged .