NewZNew (S A S Nagar) : Punjab Revenue & Public Relations Minister Mr. Bikram Singh Majithia today advocated for due representation to youth in various boards/corporations as well as in elected bodies keeping in view the large number of youngsters. He said that by entrusting responsibilities to our youngsters, we can serve the dual purpose of recognizing the services of youth leaders in various fields besides motivating the others to follow them.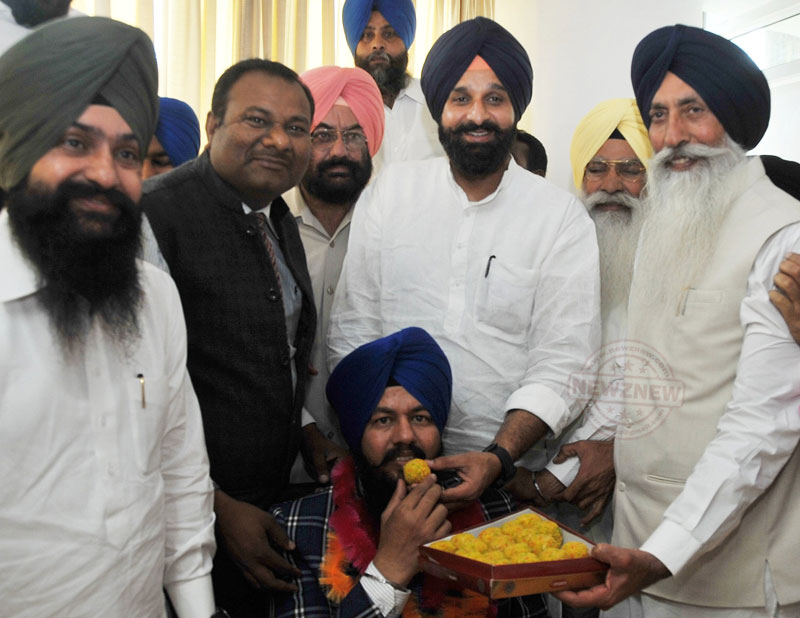 Earlier in the presence of Mr. Majithia, newly nominated member of Punjab Subordinate Services Selection (PSSSB), Mr. Iqbal Singh Sandhu today assumed his new responsibility. Congratulating, Mr. Sandhu on the occasion, Mr. Majithia thanked Punjab Chief Minister Mr. Parkash Singh Badal and Deputy Chief Minister Mr. Sukhbir Singh Badal for recognizing the services of a youth leader, who worked tirelessly for strengthening the party at grass root level. He pointed out that Shiromani Akali Dal has been giving maximum representation to progressive youths both in party organization and various governmental bodies with  a view to make them partner in rapid and overall development of the state. He expressed confidence that Mr. Sandhu would contribute a lot in selecting the talented and efficient youngsters for various jobs. He said that India has an advantage of having maximum youth population in the world and now it was all set to become the economic super power of the country.
Prominent amongst others, who were present on the occasion, included, Mr. Santa Singh Umaidpur, Chairman, Mr. Gurmit Singh Daduwal , Mr. Rajinder Sigh Dalam, Mr. Anwar Masih, all members, PSSSB and Mr. Sarbhjot Singh Sahbi, Chairman, Zila Parishad, Hoshiarpur.