PUNJAB & CENTRE GOVERNMENT TO SPEND RS 929 CRORE FOR THIS PROJECT
561 VILLAGES OF BATHINDA, MANSA, SANGRUR & BARNALA DISTRICTS TO BENEFIT
5,000 KILOMETERS OF IRRIGATION CHANNELS TO BE BRICK-LINED
BRICK-LINING THE IRRIGATION CHANNELS TO SAVE WATER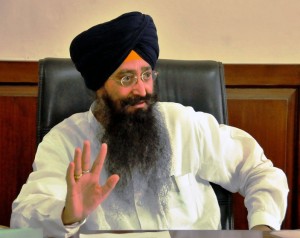 NewZNew (Chandigarh) : Reiterating its commitment for providing a boost to agriculture sector, the Irrigation Department of the Punjab government would brick-line all irrigation channels falling in 561 villages of Bathinda, Mansa, Sangrur and Barnala districts of the state by March 2017. A detailed project has been prepared under which Rs 929 crore would be spent and it would benefit 6.65 lakh acres of agricultural land falling in the above mentioned districts.
Punjab Irrigation Minister Mr Sharanjit Singh Dhillon informed that he had recently met Ms Uma Bharti, Union Minister for Water Resources, River Development and Ganga Rejuvenation and raised this issue. He thanked the centre government for clearing the project on priority basis.
While assuring the farmers, Mr Dhillon said that once this project gets completed by March 2017, the farmers of our agrarian state would get supply of water for irrigation purposes more efficiently. He said that it was a long pending demand of the farmers that they want their irrigation channels brick-lined. "And now, we have solved their problem and fulfilled our promise," said Mr Sharanjit Singh Dhillon.
Mr Sharanjit Singh Dhillon informed that water used for irrigation would be saved once the irrigation channels are brick-lined. He said that the water which would be saved, would be used for irrigating more 1.15 acres of agricultural land.
Under this project, all irrigation channels of Kotla Branch of Sirhand Canal would be brick-lined. The minister informed that 561 villages falling in Bathinda, Mansa, Sangrur and Barnala districts of the state would be benefitted. He said that the irrigation channels to be brick-lined are more than 5,000 kilometres in length and that the work would be completed in a transparent manner.
Mr Kahan Singh Pannu, Secretary, Irrigation Department, Punjab, informed that the cost of this project (Rs 929 crore) would be shared on 50:50 basis between the Punjab Government and the Centre government. He said that the centre government has already cleared the project and this project would be implemented through Punjab Water Resources Development Corporation.