Israel to establish 28 centres of excellence and cooperation in 10 states 2 in Punjab
Poland offers to Provide best, cheapest and simple solutions for food processing for small farmers
Badal desires a Task Force or Joint Working Group with Poland
NewZNew (Gandhinagar/Chandigarh) : Israeli Agriculture Minister Mr. Yair Shamir and Deputy Prime Minister of Poland Mr. JanuszPiechocinski today met Union Food Processing Industries Minister Mrs. Harsimrat Kaur Badal and expressed their interests to expand the ambit of cooperation between two countries on food processing front.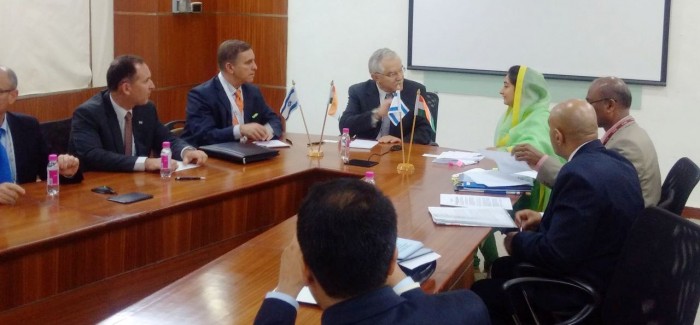 In a special meeting with Union Food Processing Minister on the sidelines of Vibrant Gujarat Summit 2015, Mr. Yair Shamir stressed on the strengths of Israel in the field of agri-technology, protected cultivation, orchard management, micro irrigation and post harvest management. He also informed about the Israeli drip irrigation systems which are now widely used in India. The Israeli Minister told about the establishment of 28 centres of excellence and cooperation in agriculture in 10 states including 2 in Punjab.
Mr. Shamir also informed Mrs. Badal that Isarel was contemplating to expand its wings in Dairy farming by setting up excellence centres in India as India has great potential in this field. He said they will soon chalk out a program in this regard.
Mrs. Badal emphasized on the need to set up a Joint Working Group with Israel on agriculture and food processing as well as to learn about the crop diversification techniques which could be used effectively in India. While visiting the stalls set up by Israel to showcase their advanced technology for drip irrigation, water conservation and post harvest management Mrs. Badal said with the cooperation from Israel India could register unprecedented growth in agriculture especially in food processing field.
Meanwhile Mr. JanuszPiechocinski Deputy Prime Minister of Poland accompanied by a 15 member delegation expressed the desire to support Indian Food Processing Industry. He emphasized that currently the balance of trades in favour of India and that Poland has done tremendous progress in the field of agriculture and food processing. Mr. Piechocinski informed that Poland has best agricultural universities, have best experience in agri consultancy, have strong public program to support agriculture and can provide best, cheapest and simple solutions for food processing for small farmers. He also reiterated that Poland is very strong in their technology for meat processing and dairying. He gave an invitation to Mrs. Badal to visit Poland and also send a group of small farmers or entrepreneurs who can see how well they are doing processing of cereals, fruits and meat as well as dairying
After detailed discussions Mrs. Badal informed the Polish delegation about the initiatives taken by India in last few months to focus on reduction in wastage and encouragement of food processing. She informed Polish delegates that Indian food processing industry was growing annually at almost 9% and holds great promises an employment generator and therefore on the need to reduce wastage by encouraging food processing  thereby uplifting the farmer and reducing inflation. She also told that the Food Map which has been made specifically for aiding investors in food processing to know where fruits and vegetables were available in India so that investors could plan setting up of processing facilities accordingly. A copy of the Food Map was also given to the delegation. She also desired setting up of a Task Force or Joint Working Group with Poland so that appropriate technology could be used by India in food processing and both sides benefit from each other strength.
Meanwhile Mrs. Badal also visited Mundra Port to see modern and efficient port works for facilitating import and export. She also took a stock of arrangements for faster and efficient clearances and cargo handling of perishable goods besides the transportation measure.