NewZNew (Chandigarh) : Designer Indian Haute couture label Jaamawar Minx(JM) has reinvented itself by re-launching operations in Chandigarh with a more spacious outlet & unveiling of an all new summer collection by owner & fashion designer Rupam Grewal. The breathtaking summer collection of both occasion & bridal wear, themed on flowers & inspired by Chandigarh's famous Rose Garden was showcased for media. An exclusive preview of Jaamawar Minx's, bigger – all new studio which has been opened at Elante Mall, Chandigarh was also held. Rupam's unique collection was presented by young Actresses  Deepti Tuli, a Jalandhar girl turned TV – Hindi Film Actress who will be coming in Hindi movie 'Ananth' as daughter of Naseeruddin Shah & Akanksha, Model-Cum-Punjabi Actress who is coming in forthcoming Punjabi flick 'Happy Ending'.
"It will not be wrong to say that we have re-launched the Jaamawar Minx label which has been known for traditional bridal wear, by introducing a lighter line which is a mix of ethnic Indian & Western motifs. I have been inspired by summer flowers which is visible in the collection. There is a lot of floral embroidery done with chiffon fabric & i have tried to create beautiful Roses on dresses, which do stand out. There are beautiful pastel shades in my latest collection. I have played a lot with ombre shading on lehangas that give a fabulous look to these. We have gone from pink to peach, peach to orange & pink to rank pink to mention a few combinations." Said Rupam Grewal.
The ensemble launched has not just new lehangas for the upcoming wedding season. Though the line unveiled is exclusive in keeping with the Jaamawar Minx credo; it certainly has something for everyone. Occasion wear can be found in floor length dresses, one can match up crop tops with floral printed long skirts & complete the dress with a stole or a 'dupatta'. 'Kabbalah' dresses, Swiss cotton tunics & 'Kurtas' are suited for office wear, Bridal gowns with Cape, front and  back open floor Length glamorous outfits with skirts, 'Lucknowi' suits with 'baadla' work & 'sharara suits' are also available. Beautiful pashmina scarves are there. A good number of beautiful Bridal pieces too are the highlight of the range.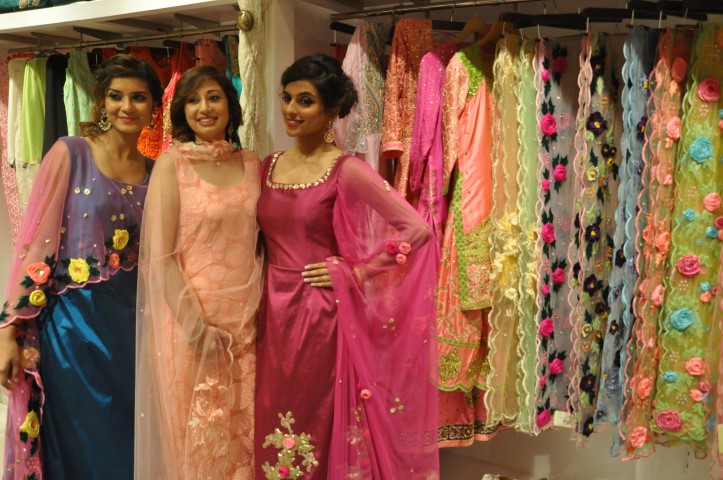 Jaamawar Minx has also introduced stylish accessories as part of its product line extension & moving into a spacious outlet. Handmade Potlis with Zardozi & Brocade work have been displayed. An elaborate range of three 'Jutti' brands — Needle Dust, Jutti Choo & Fizzy Goblets is on the JM shelves. As far as work on the garments is concerned one can see 'gotta patti', a mix of mirror & 'zardozi', sequence , knot work,  Appliqué work on 'duppatas' etc  Fabrics experimented with are georgette, silk , crepe , 'keemkab' etc.
Roses & Lilies are the two flowers that have been used well in developing the designer wear. With the re-launch, JM intends to provide divas looking for dresses to wear at page 3 parties, wedding functions & even to office, under one roof. "The idea was to expand beyond bridal bling so as to provide a larger audience with more options, while keeping the brand philosophy of creating exclusive contemporary pieces, using rich Indian craftsmanship, in place." Sums up Rupam.