Veteran actors light up the screen in this upcoming satirical comedy
NewZNew (Chandigarh) : You can call it India's answer to 'Expendables' as the Indian film industry veterans come together for a relevant political comedy. Jai Ho Democracy stars thespians from the National School of Drama and some of the best actors our country has ever had – Om Puri, Annu Kapoor, Seema Biswas, Adil Hussain and Satish Kaushik. Written and directed by Ranjit Kapoor, who also wrote the cult film Jaane Bhi Do Yaaro, the satirical comedy's trailer was launched today amidst much fanfare.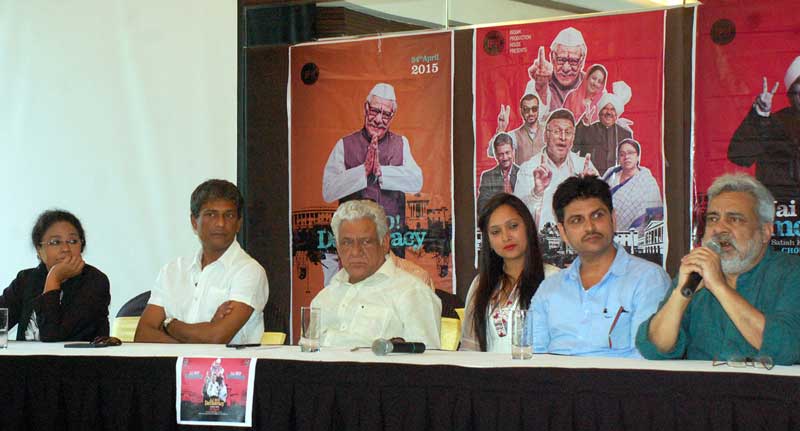 Jai Ho Democracy takes a comic look at how the powers-that-be continue to procrastinate and maintain status quo, unfazed by the gravity of the situations at hand. It also explores the funny side of how the media gets desperate in highlighting unworthy issues. It also gives a message of hope and a chance to peace between two neighbouring countries.
Ranjit Kapoor, whose last directorial effort was the much-loved and critically acclaimed Chintuji, feels it is the right time for a film like Jai Ho Democracy. "Politics is no longer a taboo topic for the Indian masses. The young especially are taking a lot of interest in what is going on behind the closed doors and under the official tables. We have tried to show the true picture, our tongues firmly in cheek."
The NSD get-together has all the veterans playing important characters, characters you have seen in Indian politics. Om Puri plays Pandeyji, a right-wing heavyweight who has come up the hard way in politics and represents the post-independent desh politician. "Pandeyji is familiar to everyone but also not stereotypical. His motivations and his actions are very identifiable and also very funny," says Om Puri.
Annu Kapoor plays PRO Ramalingam, a former Chief Justice of India, who has always been close to successive governments and in turn rewarded by those governments. "It was fun playing a character we have all heard and known of but not seen up close in action," says Annu Kapoor. "Ramalingam knows the truth but also knows when to lie."
Adil Hussain plays Major Baruah, who switched from army to politics, who had lost his leg but won all the sympathies to become an important player for the opposition. Says Adil: "Major Baruah might remind you of certain figures from Indian political history but it's also a work of fiction and hence the similarities are as they say just co-incidental."
Seema Biswas plays social activist Ashima Roy who has made a career out of her "social activities". "Haven't we seen the Ashimas around us and laughed at them secretly? Well, now you can laugh at Ashima openly and endlessly," says Biswas.
Of the other major characters, Satish Kaushik plays the Minister of State for Defence Harphool Choudhry, who is a product of coalition politics and who has to often visit Tihar jail on corruption charges. Aamir Bashir is Bashir Baig, the son of an ex-minister from Jammu and Kashmir who is the emerging face of Indian politics. And Rajni Gujral plays Mrs Bedi, a seasoned journalist who has made her way to the position of editor-in-chief of a prominent regional newspaper.