Jai Maha Bharath Party announced Agenda for Haryana Assembly Elections: The JAI MAHA BHARATH PARTY (National Level Party) Founder National President Bhagawan Shri Anantha Vishnu Deva Prabhu, Jaspal Singh Khiva – National Incharge, Amarjeeth Singh Sohal – All India General Secretary & Haryana State Cadre of the JAI MAHA BHARATH PARTY announced party's agenda for the Assembly General Elections – 2019 for Haryana State here in Chandigarh Press Club.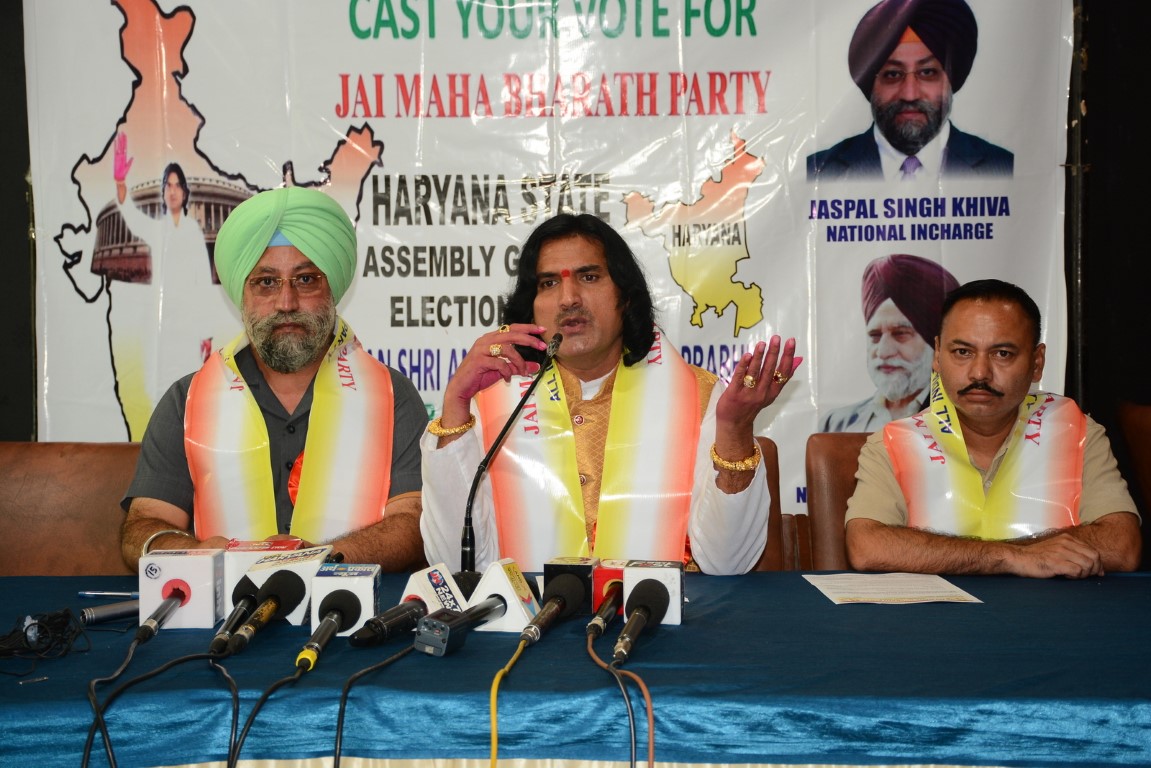 While talking about party's main agenda, Bhagawan Shri Anantha Vishnu Deva Prabhu said, "Our main aim is to provide free education to all. We want to eradicate privatization from the Education sector. Secondly, farmers are not getting any proper support from Government. We will do our best for farmers in Haryana as they are the backbone of the country."
He further talked about other problems which need attention. He said, "Employment for Haryana youth, electricity and water problems in remote areas need proper attention from the government. We will be committed to doing our best for youth employment, drinking water and even water facilities for Agriculture as well."
Jaspal Singh Khiva talked about the need to maintain law and order in Haryana State. He said that our party will maintain peace in the state by enforcing law and order. Also, our members will promote tourism in the state.
HARYANA STATE AGENDA
To Support the Entire Haryana Farmers in all Best Manners to Develop the Agriculture
To provide permanent Govt, office cum residence for MLA's in their own Assembly Constituencies for connecting with the locals, for development of the region and solving of problems
To provide best roads, transportation & infrastructures in all villages & towns of the entire Haryana State.
To provide best free Education and to provide Govt. Medical, Engineering & Technical Colleges and also other Educational Institutions like Schools and Colleges in various fields.
To Provide Best free Medical facilities in all corners of the state of Haryana.
To provide necessary employment to the Haryana State people.
To provide Best water facilities for Agriculture, Drinking and to provided Best Electricity facilities to the all Corner of the Villages of the Haryana State.
To provide best law & order and to maintain peace and tranquillity in the State of Haryana.
To develop tourism in large scale in Haryana State…. etc.