NewZNew (Chandigarh) : One look at these pictures and you will probably rub your eyes to check if you're seeing right…yes! It is, indeed, him …the most loved Jamai Raja of television. Multifaceted actor Ravi Dubey never ceases to entertain the audiences by effortlessly slipping into any character with élan…Winning over millions of fans with his endearing portrayal of Sid in Zee TV's top-rated primetime drama Jamai Raja, the actor will once again surprise everyone by donning the look of a 50 year old Maharashtrian woman Jyoti Tai, who will be seen in the show as a caretaker of Roshni (Nia Sharma).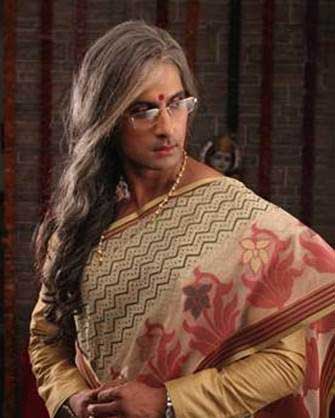 In the current track of the show, one sees Sid turning into Jyoti Bai as a result of certain unfortunate situations created by troublemakers Shabnam & Bansi Ben's family! Roshni (Nia Sharma) has lost her memory and is failing to recognize anyone in her family. She considers herself to be Kunal's (Adhvik Mahajan) wife. To counter this, Sid enters the Patel house as Roshni's caretaker so that he can stay close to Roshni and help her get her memory back and keep a close watch on Shabnam and the Bansi family so he can protect his family and expose them.
Interestingly, the versatile actor has donned multiple avtaars with finesse in the show and is leaving no stone unturned in playing Jyoti Tai with conviction! But if you think it was easy for Ravi to carry off the look and mannerisms, think again … Ravi says, "As an actor I believe in surrendering myself to the character and carrying multiple looks in one show has been an interesting experience.. So when I was told to don the look of a middle-aged woman, I wanted to ensure that it does not look a caricature but comes across as real. After all, Sid is doing this to stay close to his loved ones. This isn't a gimmick to make viewers laugh …To turn into Jyoti Tai, I have not used any prosthetics as they're time-consuming. Instead, we watched a few online make up videos that help you quickly get into the elaborate disguise. Considering that we're working on a daily show, the time on hand is limited …Apart from that, I have worked on getting the perfect diction of a middle aged Maharashtrian woman. The voice modulation, body language and such other nuances had to be looked into in order to be convincing as a senior woman on screen" he says with a smile.
Ravi adds further "Jyoti Tai is a big challenge and I am eagerly awaiting my fans' reactions. After all the preparation we've been through, all I want to say is that it's certainly not easy being a woman!"