JMD Medico's Arthorex will say Good-Bye to your Pain
newznew (Chandigarh) : Do you face difficulty in climbing stairs? A sudden stiffness or pain after sitting for a long duration? Don't ignore it. You could be having arthritis. And it's not something that affects only older people, as is the notion. Arthritis, especially osteoarthritis, is on an alarming rise and affect 15% of country's population i.e. over 180 million Indians of which some are below the age of 25. In addition, this disease is on the rise among women.
Arthritis occurs commonly in small joints of the hand, the vertebral column and the knees. Arthitis is among those 100 rheumatological disorders classified by World Health Organization for which there is shortage of trained rheumatologists in India and there is lack of awareness of the disease.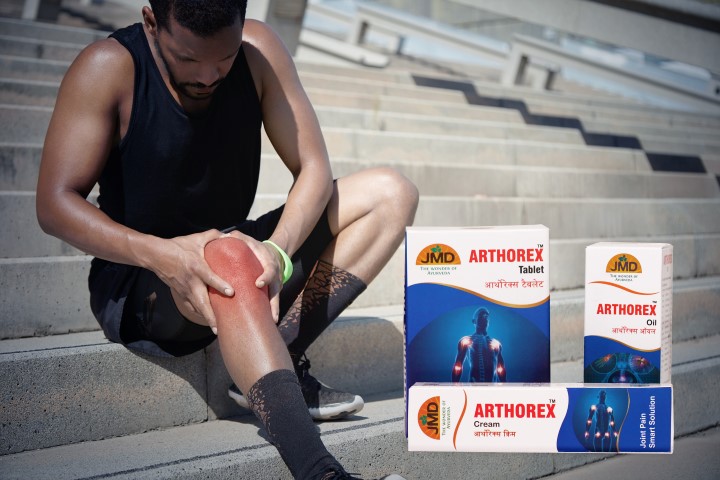 To combat the problem, JMD Medico has launched its range of products with a goal to achieve complete eradication of Arthiritis from the country.JMD Medico has introduced Arthorex Oil, Cream and Tablets.
Arthorex Oil contains Rasna, Erandamul, Debdaru, Berela, Aswagandha, Jalamansi, Halud, and Til Oil as the main ingredients, which are sourced from nature. The oil is a smart solution for curing joint pain. It provides rapid relief for Arthritis.
Arthorex Cream contains Neelgiri Oil, Tarpene Oil, Katuvera Oil, Clove Oil, Gandhpura Oil as ingredients. It is an on the go effective treatment of joint pain and provides rapid solution for Arthritis.
Arthorex Tablet contains Sallaki Guggulu, Garcinia, Curcumin, Nirgundi, Erand as ingredient and is known as joint pain smart solution and helps curing the problem from within.
All products of JMD Medico are 100% Herbal products with No Side effects. JMD medico is associated with GMP and 100% herbal certificate holders. In order to achieve complete eradication of Arthritis from India, the company has made products available at an affordable price for its consumers. A 60 ml pack of Arthorex oil cost Rs. 120. A 30 gram pack of Arthorex cream cost Rs. 90. A pack of 10 tablets Arthorex tablets cost Rs. 180.
The products are easily available at nearest store as OTC product and can be ordered online from the company's website – http://www.jmdmedico.com/