India's largest auto aggregator and a leading hyperlocal startup, forays into on-demand hyperlocal delivery with the launch of Fatafat in Jalandhar. Fatafat will facilitate the residents of Jalandhar to order food from their favorite restaurants, ready to eat meals, grocery, fresh fruits and vegetables, ice cream, OTC medicines, health supplements, gifts, flowers and farm fresh milk at their doorsteps. Thus, Jugnoo aims to become a one-stop solution for all the daily hyperlocal needs of its users.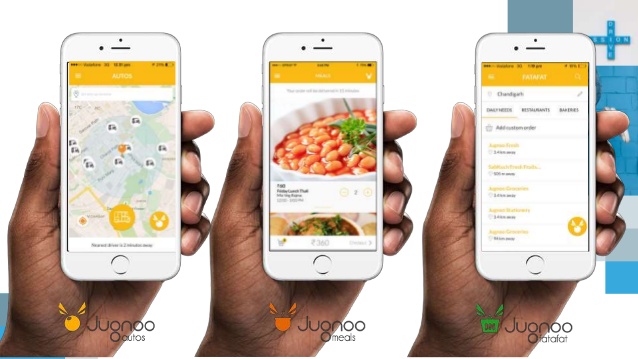 Fatafat vertical in the Jugnoo app provides groceries, fruits, and vegetables on no minimum price and offers free of cost delivery for orders above Rs. 599 and thrives on its USP of delivering products in the least possible time. The customers can choose products from the wide range of meals, restaurants, and Jugnoo Grocery. The request is then completed with the help of Jugnoo drivers.
Talking about the launch, Jaspal Singh, Business Head said " Jugnoo thrives on the goal of Buy Local and Empower Local Businesses, in its bid to expand the footprints across more cities. Also with Fatafat service Jugnoo has been successful in onboarding the local retailers onto its platform to compete with the big e-com players."
Samar Singla, CEO & Founder of Jugnoo comments, "With this launch, we are taking a step ahead towards our objective of expanding across India with our verticals of on-demand space. With Fatafat, we are working towards creating a demand for local shopkeepers/service providers and fulfilling these demands in the fastest time possible. The idea is to establish Jugnoo as a key player in the market for providing all kinds of hyperlocal deliveries".
With the recent exponential growth of hyperlocal commerce in India, Jugnoo's Fatafat services align perfectly with the future plans of the company. Including Jalandhar, this service is present in 10 cities across the country namely; Chandigarh, Indore, Jaipur, Kota,  Gurgaon, Lucknow, Surat, Bangalore, and Pune.