Kangna in Chandigarh to promote her film 'Dhaakad': Actor Kangna Ranaut is leaving no stone unturned to promote her upcoming release, Dhaakad. Bollywood's Manikarnika has recently visited Chandigarh along with her co-stars Arjun Rampal and Divya Dutta.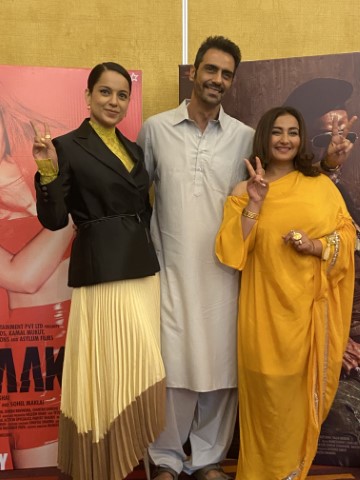 In the movie, Kangna will be seen in the role of Agent Agni, a racy character performing realistic actions. Talking about her character, Kangna says, "Dhaakad has an international appeal on the accord of its production value and quality, but at the same time, it gives Hindustani vibes with its story set in the coal mines." She further adds, "It was a challenging role. All that throat-slitting, kicks, and punches were back-breaking. I felt like an entirely different person while performing the scenes."
Not long ago, Kangana crossed the 1 Million followers mark on the microblogging platform, the Koo app. When asked about her views on Telugu star Mahesh Babu's comments on bollywood, the actor answered, "his generation has single handedly made Telugu industry the number one film industry in India. I don't see why this should be made into a huge controversy,"
Dhaakad cast looked extremely happy and excited to be in the City Beautiful. While Divya had many memories of the city and considers it lucky, Arjun loves its 'food, people, and the planned structure.' Kangna too expressed her wish to produce a Punjabi film.
Directed by Rajneesh Ghai in his directorial debut, Dhaakad is an action thriller that tells the story of Agent Agni, a highly trained and deadly field agent who is entrusted with a mission to gather Intel and eliminate an international human and arms trafficker. Dhaakad promises to be a never-seen-before action thriller in Bollywood.
Dhaakad is set to release in cinemas on May 20.