Kavi Raz is all set to helm another international project with "SARABHA – Cry for Freedom"
India is a land of freedom fighters and our film fraternity never leaves a chance to show their bravery and sacrificing story to the audiences. This time after gaining international success and recognition for his historic drama The Black Prince, world renowned director Kavi Raz is back with another period film culled from the pages of our history, "SARABHA – Cry for Freedom"
Sarabha – Cry for Freedom is a historic, heart wrenching, true story about the beginnings of India's long and arduous journey towards gaining freedom from their British rulers. The major part of the movie will be filmed in the US, Canada, United Kingdom, Philippines and India.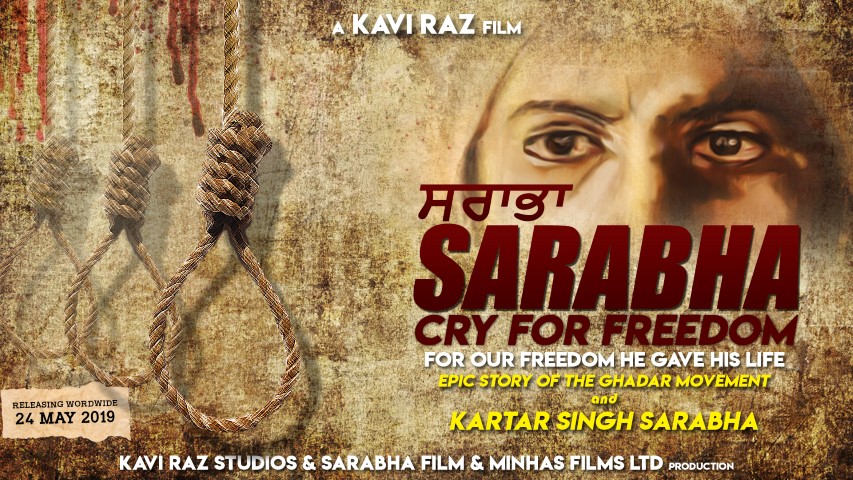 This film will also showcase the revolutionary movement, Ghadar (Revolt) as this movement was called took its roots on North American soils in the late Eighteen century to Early Nineteen hundred, when the hard working Punjabis of North India began to migrate to North America, seeking a better life for themselves and their families back home. Ravages of a recent plague that swept through Punjab and high taxes levied on farmers by the English, forced many to leave for North America shores.
The whole project is produced by Kuldeep Sharma, Sarbjit Hundal and Jatinder Jay Minhas
Early arrivals were mostly farmers and some among them ex-military men who had served under the British regime. Freedom was far from their mind until they were forced to face the harsh realities of life in America. Here realizing the value of freedom these simple farmers planned an armed revolt to overthrow the British government and drive them out of India.
At the height of the movement, over Eighty-Seven hundred men boarded weapons laden ships and headed back to India in a much-orchestrated move to begin their rebellion.  Among them was a young Berkeley University science student by the name of Kartar Singh Sarabha, a genius of his time.
The revolt was ultimately crushed as the British infiltrated the organization with well planted spies, but the seeds of desire for freedom were sown in the hearts of Indians, especially Punjabis of North India.
Kartar Singh Sarabha was arrested along with many others and hanged in Lahore Central jail for his role as the fiery leader of the movement. At that time he was only Nineteen years old at the time     
Kavi Raz is an award-winning veteran of the Hollywood film industry, having acted in hundreds of TV shows and films. He has recently announced the film "SARABHA – Cry for Freedom". The poster of the same is released recently.
Apart from this film, his upcoming films as a director include Barefoot Warriors, American, I am and Mera Wattan.
Barefoot Warriors, an international film inspired by a true story, produced by Jatinder Jay Minhas under the banner of Minhas Films Ltd. and written and directed by Kavi Raz, recently wrapped its shoot in Punjab and is now in Post-production in Hollywood. Film will be released in 2019.
"SARABHA – Cry for Freedom" Film will be presented worldwide by Sarb Thiara. Also, this film is being made in three versions, Punjabi, Hindi and English.
The star cast of the film is yet to reveal but this will release on 24th May 2019.