Keep Your Dubai Property Well Maintained This Summer: Despite Dubai being one of the most popular tourist attractions, the summers in Dubai are extremely difficult to handle. 45 degrees temperature is a norm in Dubai during July and August.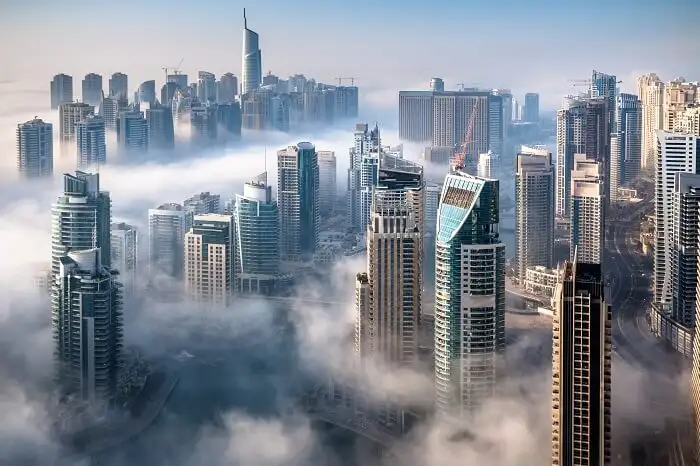 People protect themselves from heatstroke and scorching rays of the sun using various ways.
Protection from heat is not only necessary for humans but the property also needs to be summer-proof to prevent damage. The high temperature of Dubai is not only harmful to you but your valuable possessions are also vulnerable to the hotness and humidity.
The most significant possession that needs to be protected in Dubai is property. Although it seems a little difficult to keep your house protected from the sun. LuxuryProperty.ae points out the six maintenance tips that will surely make it easy for you to keep your property well maintained.
Six Effective Property Maintenance Tips
1. Schedule an AC Service
One cannot imagine surviving in Dubai without an air conditioner. All the offices, homes, and restaurants, are fully air-conditioned in Dubai because the heat is unbearable without AC. Therefore, you have to make sure that your air conditioner is properly working before the start of the summer.
Scheduling an AC service with a professional will help you to not go through the risk of AC malfunctioning during summer. Period maintenance of the AC unit is crucial, it not only assures the mint condition of the air conditioner but also enhances the lifespan of the AC.
2. Keep the Outdoor AC Unit Clean
Taking care of the air conditioner requires you to make sure that the outdoor AC unit is clean. People who do not pay attention to the debris or other material that clogs the AC unit end up facing many issues. The unclean AC unit reduces its efficiency which ultimately affects the working of the air conditioner.
One can make sure that the AC unit is properly cleaned by himself but it is a slightly difficult task because utmost attention has to be given to the details otherwise some grass clippings will be left stuck in the unit. You should hire professionals to do this task more efficiently and if you are planning to do it yourself, make sure to turn off the thermostat prior to the cleaning process.
3. Insulate your Windows
Windows not only help you see the world across the wall or get the fresh air but windows also provide a way for heat to come into your house. The sun rays coming from the window increase the temperature in your home and you need to set the temperature of your air conditioner lower which ultimately increases the electricity bill.
Therefore, it must be your supreme priority to prevent the entrance of sun rays into your home. To prevent the entrance of heat into your property, you need to insulate your windows.
It is a very simple process as windows can be tinted either by applying a window tint to your windows that will make sure that all the sunrays are being reflected instead of deflection. The second method is to replace the windows of your home with double pane glass. Either way, sunlight will not enter your property directly and it will be a huge help in maintaining a cool temperature in your home.
4. Get Some Home Plants
One of the most common methods that is being used for a long time is using plants for reducing the temperature of any area. Plants keep your surroundings cool by the process of transpiration, they also help to provide shade and increase the beauty of your property as well.
You should choose some low-maintenance plants even if you are fond of gardening because, in the scorching heat of Dubai, it becomes difficult to practice gardening. These plants will not only beautify your property by bringing greenery to your villas but will also make your surroundings cool.
5. Keep Your Home Protected Against Pests
Heat in Dubai forces insects and pests to come out in the summers. You can spot flies and cockroaches anywhere on your property, which can harm your property a lot. No matter how cool your home is from the inside and how efficiently the air conditioners are working, if pests are not given attention then they can cause some serious damage.
They are not only harmful to the structure or cleanliness of your property but they can spread various diseases as well. So, it should be one of your top priorities to clean your homes and villas from these pests.
You can use professional services to keep your home clean but they will not be enough. You need to take care of your home by yourself by making sure that no food is left anywhere uncovered, no cracks exist on the floors or in the walls, and your property is thoroughly cleaned by all means. Cleanliness will prevent the arrival of uninvited guests; pests, on your property.
6. Regulate the Temperature of your Appliances
It seems like a very unimportant tip but it creates a huge difference in maintaining the right temperature of your home.
Make sure that your units on the thermostat are not left in "on" mode because then more energy is consumed increasing the consumption of electricity. Keeping devices at an appropriate temperature is very necessary because this temperature decides the energy consumption and ultimately the electricity bill.
Conclusion
As the weather in Dubai remains hot during most time of the year, these tips will help you to make sure that your property remains cool, safe, and maintained all year long. These tips do not need a lot of money, you just need to pay attention to the little details and put some effort to ensure the maintenance of your property. Moreover, you not only need a cool and maintained property but you should also try your best to save as much money as possible. The tips mentioned above and the guidelines about the appropriate temperature setting for your appliances will help you to reduce your bills while enjoying the cool temperature at your property.