'Khaao Piyo Aish Karo' with Tarsem Jasser and Ranjit Bawa on 1st July 2022: Harsimran Singh and Brotherhood Productions are preparing to release Ksshitij Chaudhary's forthcoming Punjabi film "Khaao Piyo Aish Karo".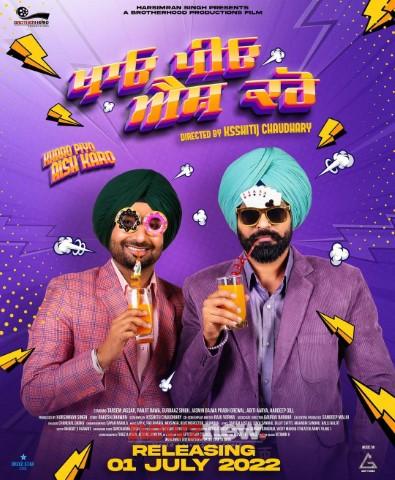 Tarsem Jassar, Ranjit Bawa, and Gurbaaz Singh feature in the key roles, among industry favorites Jasmine Bajwa, Aditi Arya, and Prabh Grewal.
As the title suggests, the film is designed to make the audience laugh with its plot of two brothers who get a loan from a bank intending to start a new business but end up using the money for something else and getting themselves into big difficulties.
The other key elements of the film are the poppy songs two of which have already been released, 'Shareeka' and 'Maahi Ve' that are tremendously being praised by the Punjabis around the globe. Certainly, there are going to be more fun chartbusters on the way.
Harsimran Singh, the film's producer, is overjoyed to deliver such a unique story: "I am overjoyed that the film is ready to be shown to the audience. People will enjoy the high level of entertainment with this ne concept and story that is meer a reality in Punjab."
Tarsem Jassar, a well-known actor-singer in Punjab, expressed his excitement over the upcoming release"The film has been excellently directed and produced by Punjabi cinema experts, and I am extremely glad to work with them and look forward to the good reception from the audience."
"We are already getting a lot of love from the fans for the teaser and the songs," Ranjit Bawa said. "I am delighted that the notion of this new era is being presented in the Punjabi business, and I hope that the audience will warmly accept this comedy film."
'Khaao Piyo Aish Karo', ready to hit the theatres on 1st July 2022