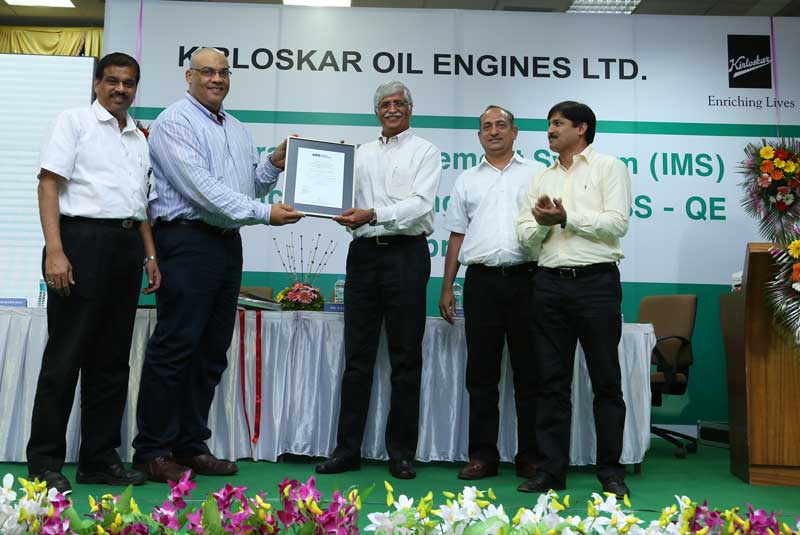 NewZNew (Pune) : Kirloskar Oil Engines Limited (KOEL), India's leading manufacturer of diesel engines, agricultural pump sets and generating sets has been awarded with the coveted Integrated Management Systems (IMS) Certification from ABS Quality Evaluations. This certification by the American certifying body is a sequel to KOEL demonstrating very high level of conformance to the three International Management Systems, namely Quality Management Systems (ISO 9001:2008), Environment Management Systems (ISO 14001:2004), and Occupational Health and Safety Management Systems (OHAS 18001:2007) – all seamlessly collated together as ONE Integrated Management System.
This initiative brings in sharper focus on customer delight through quality improvement with optimum conservation of resources like power, water, fuel and wood.
The IMS certificate handing-over ceremony was organized at KOEL's world class manufacturing facility at Kagal in Kolhapur on April 20, 2015. The certificate was presented to Mr R R Deshpande, Executive Director, KOEL, by Mr Brian Sanders, Certification Manager from ABS Quality Evaluations USA in the presence of Mr Ravindranath Bhandurge, Head, ABS QE India.
Speaking on this occasion, Mr R R Deshpande highlighted KOEL's policy of adhering to the highest level of standards in every aspect of pursuing business objectives towards achieving excellence. He emphasized on the need for continuous improvement through systematic approach so that the Company can remain competitive in the domestic and overseas markets. The IMS certification is an endorsement of KOEL's commitment towards Quality, Safety in workplace and Environment preservation.