Kobbari Matta Movie Review – a good time-pass Entertainer: First things first. Kobbari Matta is not a sequel to the slapstick comedy Hrudaya Kaleyam that released a few years back.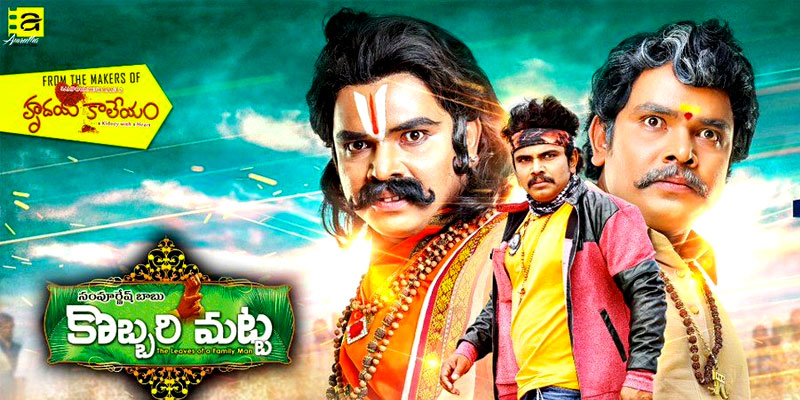 Here, 'Burning Star' Sampoornesh Babu pulls off a triple role as grandfather Paparayudu, son Peddarayudu and grandson Androidu.
Cast & Crew:
Movie Review: Kobbari Matta
Director: Rupak Ronaldson
Producer: Sai Rajesh Neelam
Banner: Amrutha productions
Music Director: Syed Kamran
Starring: Sampoornesh Babu and Ishika Singh
Rating: 3/5
Kobbari Matta Review: Kobbari Maata starring Sampoornesh Babu and Ishika Singh, has finally hit the theaters today. Let's see the story of Kobbari Matta.
Story: Rayudu (Sampoornesh Babu) who is the head of the village, lives with his three wives.  The problem arises in their lives, when Androidu (Sampoornesh Babu) enters in their lives.  Who is Androidu?  What  is the connection of  Rayudu to Androidu? To get these answers, one should watch the movie on silver screen.
 Plus Points:
Sampoornesh Babu
Spoof Comedy
Dialogues
 Minus points:
Performance: Sampoornesh Babu is the biggest and the only asset to this film Kobbari Matta. As expected, Sampoornesh Babu does not disappoint at all. His funny dances and mass dialogue delivery are awesome. He delivers hilarious fun in all his three avatars.
Kobbari Matta will create a new genre and Sampoornesh Babu should nurture his career by acting selectively in movies where the director can produce magic with him.
Female lead Ishika Singh looks good and performs well in her role. Mahesh Kathi gets a hilarious role. Shakeela gets a key role and she is fine. Rest of the cast performed accordingly.
Technical: Even though Kobbari Matta is a low budget film, the visuals look rich. Production values are good. The songs are average, but it does not spoil the flow of the film. Dialogues need a special mention here.
The dialogues are hilarious and will remember for a long time. Editing is ok and Screenplay of the film is pretty good, as it holds the audience with just Sampoornesh Babu' screen presence. Director Rupak Ronaldson has done a decent job for Kobbari Matta.
Analysis: Overall Kobbari Matta is an out and out comedy caper. Watch it on a big screen and watch it with crowds.