NewZNew (Mumbai – Kulbir Singh Kalsi) : Kotak Mahindra Bank Ltd ("Kotak") today announced the listing of new equity shares of the merged entity on the Stock Exchanges today. As per the scheme of merger, shareholders of ING Vysya Bank receive 725 shares of Kotak Mahindra Bank for 1,000 shares of ING Vysya Bank. Uday Kotak, Executive Vice Chairman and Managing Director, Kotak Mahindra Bank rang the ceremonial bell at National Stock Exchange (NSE), Mumbai to mark the occasion.
Shareholders of ING Vysya Bank were issued 13,92,05,159 equity shares of Rs. 5/- each. The trading for the new shares will be effective April 27, 2015.
Uday Kotak said, "It is heartening that shareholders of both the organisations approved this merger with overwhelming support. As a result, with this auspicious bell ringing ceremony, we delightfully welcome all shareholders of ING Vysya Bank into the Kotak family."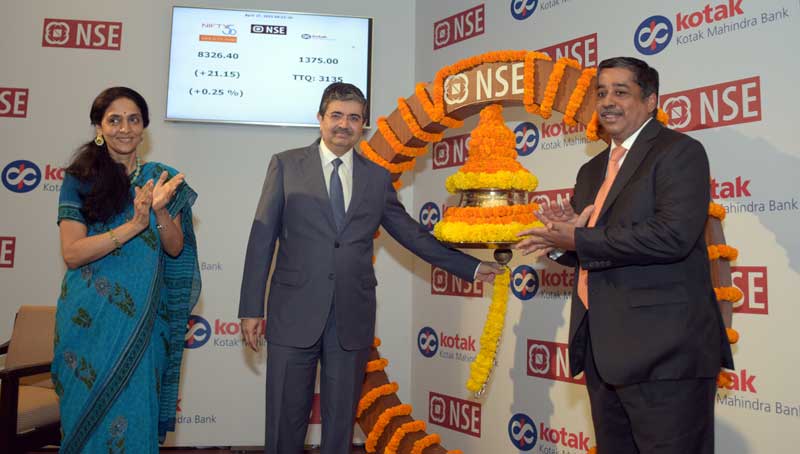 "The merger brings two strong players, with deep Indian roots and global standards of service. I am confident that the merged entity will tap the immense growth potential the country has to offer, and contribute to India's transformation", added Kotak.
Effective April 1, 2015, ING Vysya Bank Ltd has merged with Kotak Mahindra Bank Ltd creating a Rs 2 trillion institution (consolidated). The merged entity – Kotak Mahindra Bank Ltd. now has a significant national footprint of 1,250+ branches and 1,900+ ATMs spread across 640+ locations, affording it the capacity and means to serve customers better.
The opportunities and synergies of this merger will create a Bigger, Bolder, Better Kotak, and will place all stakeholders on a new trajectory of growth, excellence and leadership.
About Kotak Mahindra Bank
Established in 1985, Kotak Mahindra group is one of India's leading financial services conglomerates. In February 2003, Kotak Mahindra Finance Ltd. (KMFL), the group's flagship company, received banking license from the Reserve Bank of India (RBI), becoming the first non-banking finance company in India to convert into a bank – Kotak Mahindra Bank Ltd. (KMBL).
The Bank has three Strategic Business Units catering to retail and corporate customers across urban and rural India.
The Consumer Banking business offers complete retail financial solutions including a variety of savings and loan products and innovative digital solutions – Jifi, a first-of-its-kind fully integrated Social Bank Account, redefines digital banking by seamlessly incorporating social networking platforms like Twitter and Facebook with mainstream banking. KayPay is the world's first bank agnostic instant funds transfer platform using Facebook. On the savings bank account front, the Bank offers higher interest rate at 6% p.a. for balances of over Rs. 1 lakh, and provides a comprehensive suite of investment services and transactional conveniences. The Bank's Wealth Management business is one of India's largest and provides customised financial solutions to high net worth families.
The Corporate Banking business offers a comprehensive portfolio of products and services  – working capital financing, medium term finance, current account, trade services, cash management services, export credit, transaction banking, custody services, debt capital markets, forex and treasury services.
The Commercial Banking business offers a comprehensive portfolio of banking products and services to Small and Medium enterprises (SME) engaged in manufacturing, trading, services and export businesses. It has specialised units, which provide finance to Agri Sector, Commercial Vehicle operators and Infrastructure business. It services farmers across India by providing term loans to purchase tractors. The Bank also offers small ticket Gold loans and business loans.
Effective April 1, 2015, ING Vysya Bank Ltd has merged with Kotak Mahindra Bank Ltd creating a Rs 2 trillion institution (consolidated). The merged entity – Kotak Mahindra Bank Ltd. has a significant national footprint of 1,250+ branches and 1,900+ ATMs spread across 640+ locations, affording it the capacity and means to serve even better