NewZNew (Chandigarh) : National Institute of Electronics and Information Technology (NIELIT), Department of Electronics and IT (Deit), Ministry of Communications and IT, has signed a MoU with Snapdeal, India's largest online marketplace, to roll out digital marketing courses for small and medium sellers and artisans across India and enable them to take advantage of e-commerce opportunities.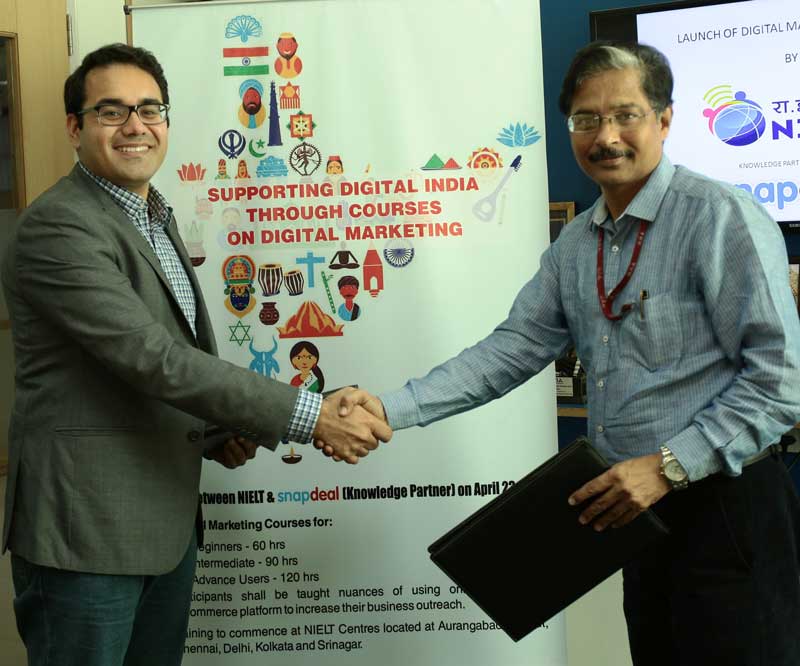 NIELIT is actively engaged in the development of qualified human resources in the areas of IT, Electronics, Communication Technologies, Hardware, Cyber Law, Cyber Security, IPR, GIS, Cloud Computing, ESDM, e-Governance and related verticals. NIELIT's pan India presence includes 31 own Centres besides a network of 900+ Accredited Institutions and 6000 plus Facilitation Centres engaged in delivery of Digital Literacy programmes.
As part of the Digital India initiative, NIELIT has been undertaking various Capacity Building activities in Information and Communications Technology. Snapdeal has a growing seller base of 100,000 sellers and has a deep understanding of the challenges that SMBs face while looking to expand their business through online channels. Drawing synergies from each other's areas of expertise, Snapdeal and NIELIT are partnering to build and launch digital marketing courses which will educate and train SMBs on the finer nuances of selling online.
[blockquote author="Commenting on this development, Dr. Ashwini Kumar Sharma, Managing Director, NIELIT,said" pull="pullright"]The initiative of NIELIT is in line with the vision of the Government of India, which aims to support the pillars of Digital India, mainly "e-Kranti – Electronic Delivery of Service" and "IT for Jobs". Empowerment of small scale entrepreneurs such as artisan, traders weavers etc. would result in a "win-win" proposition for both, the seller as well as buyers. The participants would be able to widen their business prospect by learning the nuances of using Online provisions to market and sell their products, thus eliminating the need for middlemen/brokers. This would also help prospective buyers to access a wider array of rural handicraft, handloom and other such products, which otherwise is not accessible in the Online mode. The MoU seeks to add value to the course on Digital Marketing and we are exploring such proposals with Industry.[/blockquote]
Talking about this partnership, Kunal Bahl, CEO and Co-founder, Snapdeal.com, said, "We at Snapdeal are constantly striving towards making our growth story more inclusive. We are delighted to partner with NIELIT and thereby contribute to the Digital India initiative. We believe that this soon to be launched course on Digital Marketing will empower small and medium sized businesses across the country and help them tap the big Indian e-commerce opportunity. This partnership is a small step at our end towards bridging the existing digital divide in our country."
The Digital Marketing Courses will help the trainees understand the fundamentals of digital marketing and effectively utilizing the online sales channel. The course will be divided into three levels – basic (60 hrs), intermediate (90 hrs) and advanced (120 hrs). It will include practical training on cataloguing, IT skills and social media tools required for selling online successfully. As the industry and knowledge partner, Snapdeal will provide inputs on the course and will facilitate industry interactions for the participants. To begin with,the course will be launched in 6 centres- Srinagar, New Delhi, Aurangabad, Kolkata, Calicut and Chennai.