newznew (Chandigarh) : Singer Karan Singh Arora aka KSA launched his upcoming single titled 'Relationshit' in Chandigarh during the occasion of Valentine's Day. Also, model/actress Martina Thariyan accompanied Karan during his visit to the City Beautiful. Martina is playing the female lead in the video of the song. While interacting with media, Karan shared that it is his third song and his previous two songs 'Party Tera Bhai Dega' and 'Naagin' were also highly appreciated by youngsters. As love is the hot topic these days, Karan's song will put light on today's modern love.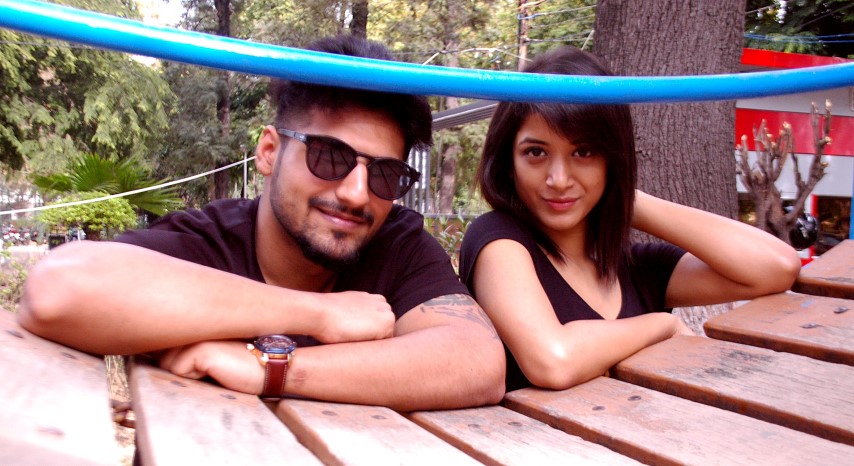 "I myself have composed this song. It's a typical rap song and \the video was shot in West Lake Studios, Hollywood," said Karan. Music is a childhood passion Also Karan shared that he is associated with music since his childhood days. He was often punished in school for playing drums on the class benches and for intoning all the time. Yet Karan never kept him away from music. He also holds a diploma in music from Pune. He said that his dream is to bring his music to an international level. Excelling in indie-rock genre, Karan said that he wants to continue with genre only.
Meanwhile, Martina also talked about the fantastic experience that she had while shooting the song in Hollywood. She said that working in front of the camera is very vibrant job and this particular song made it more happening. "I believe that people are going to enjoy this song because it is light-hearted and entraining. However, shooting a show and shooting a song are completely different. It becomes bit more challenging to present yourself in a video which runs only for 2 to 3 minutes," said Martina.
Coming to today's relationships, Martina said that today's youth is little impatient when it comes to dealing with relationships. So, this song will be conveying a descent message ina  cheerful manner.