Launch of Xcelerator Ludhiana – Sadda Karobaar, Punjab di Shaan: The Global Alliance for Mass Entrepreneurship (GAME) in partnership with Department of Industries & Commerce (Government of Punjab) and Chamber of Industrial & Commercial Undertakings (CICU) launched the Xcelerator Ludhiana – Sadda Karobaar, Punjab di Shaan program in Ludhiana.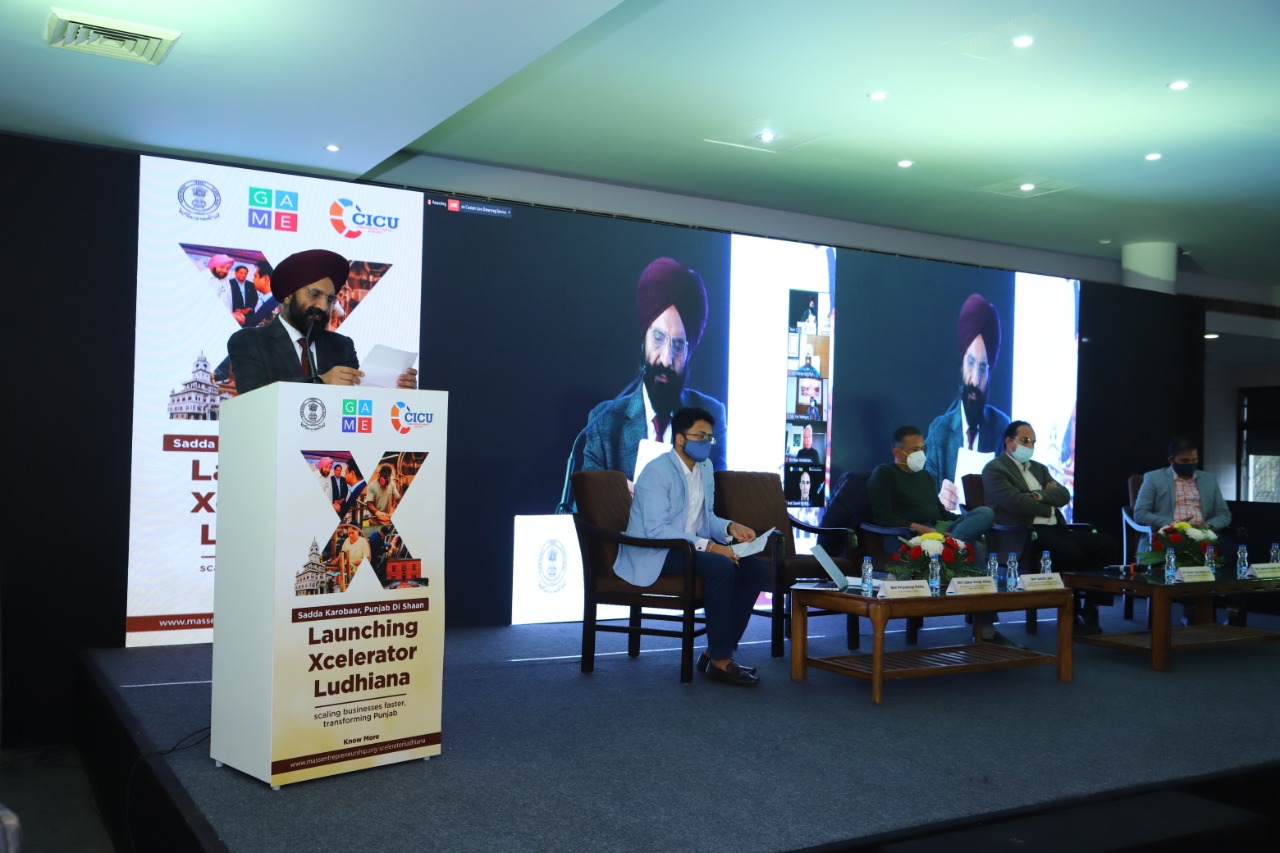 Xcelerator is a 6-month business accelerator program to support promising mass entrepreneurs (SMEs) in improving their productivity, efficiency, and profitability and scale their businesses faster. The Program was launched by Shri Manpreet Singh Badal (Hon'ble Finance Minister, Government of Punjab) as Chief Guestalong with Ms. Vini Mahajan (Chief Secretary, Government of Punjab) in the presence of Mr. Alok Shekhar (Principal Secretary Industries & Commerce, Government of Punjab), Mr. Sachit Jain (Vice Chairman & MD, Vardhman Special Steels, and Chair of GAME Punjab Taskforce) and Mr. Ravi Venkatesan (Founder, GAME) among other notable guests and entrepreneurs. 
The event marked the start of the first cohort of Xcelerator Ludhiana with 27 entrepreneurs in the INR 2 to 50 crore annual revenue category who were selected from an application pool of over 450.
The Xcelerator program has been inspired by the Scale Up® Program by Daniel Isenberg (also a speaker at the event and advisor to Xcelerator), that has been implemented in other developing and developed countries such as Colombia, Brazil and USA. The program is being led by the GAME Punjab Taskforce with Mr. Sachit Jain as the chair along with Mr. Upkar Singh Ahuja (President, CICU) and other key stakeholders from government, industries, banks, academic institutes and media.  
"The entrepreneurial spirit of Punjab is well known and, in the last few years, we have made consistent strides towards a more business friendly environment in the state. We are committed to create more opportunities for existing and new entrepreneurs, attract more investment and amplify ease of doing business for robust industrial growth. On the same lines, I am very happy to launch the Xcelerator initiative by GAME starting with Punjab's largest industrial hub – Ludhiana and hope that this initiative, geared towards providing the much needed handholding for mass entrepreneurs, will strengthen the entrepreneurship ecosystem in Punjab,"said Manpreet Singh Badal, Hon'ble Finance Minister of Punjab.
Vini Mahajan, the Chief Secretary to the Government of Punjab said, "This Xcelerator is an important step towards amplifying the entrepreneurial dynamism and enabling a conducive entrepreneurship ecosystem for the growth of Micro, Small, and Medium Enterprises (MSMEs) in Punjab. Initiatives like 'Startup Punjab' and 'Invest Punjab', which was recently recognised as the top performing investment promotion agency in the country by the Department for Promotion of Industry and Internal Trade (DPIIT), are examples of the state government's efforts towards achieving this end. The Government of Punjab is committed to support GAME and other stakeholders in this programme."
"We are extremely delighted to have the Government of Punjab partner with us in this effort to amplifying growth of entrepreneurship in local ecosystems. Ludhiana has been chosen as the first location for this program because of the entrepreneurial energy which exists and potential to create a model that can be replicated across Punjab and the rest of the country. The high calibre of the entrepreneurs chosen to be part of Xcelerator Ludhiana and their success we hope will inspire a thriving entrepreneurial environment," said Ravi Venkatesan, Founder, Global Alliance for Mass Entrepreneurship (GAME) and Former Chairman of Microsoft India and Bank of Baroda.
"As an important support to Punjab's industrial transformation, Ludhiana has huge potential in some of its core-sectors like agri-tech, textiles, healthcare, light engineering, auto components, in which there is robust local expertise and a rich ecosystem of customers, suppliers etc. Hence, Xcelerator has been designed in a way that will help small businesses scale up faster in a short span of time and will also help them sustain market realities. This pilot of Xcelerator will set the base for the expansion of the program across different districts of Punjab. Building a self-sustaining pipeline of entrepreneurs, by investing in education and incubation is the need of the hour," said Sachit Jain, Vice Chairman and Managing Director, Vardhman Special Steels Ltd
The Xcelerator program, post completion of successful pilot, is expected to be rolled out across other districts of Punjab led by the local ecosystems and stakeholders to massively amplify business growth for mass entrepreneurs and play a critical role in reviving the business dynamism of Punjab.