Leading healthcare brand Apollo Health & Lifestyle Ltd performs Bhoomi Pujan of a multi-specialty hospital with a unique integrated care model in Mohali, Punjab: Apollo Health and Lifestyle Limited (AHLL), a subsidiary of the Apollo Hospitals Group, making accessible international standard multispecialty, with specialized surgical care and comprehensive women and child care, along with round-the-clock emergency care in the neighborhood; has now launched 3 of its flagship units – Apollo Spectra Hospitals, Apollo Cradle& Children's Hospital and Apollo Clinics in Mohali.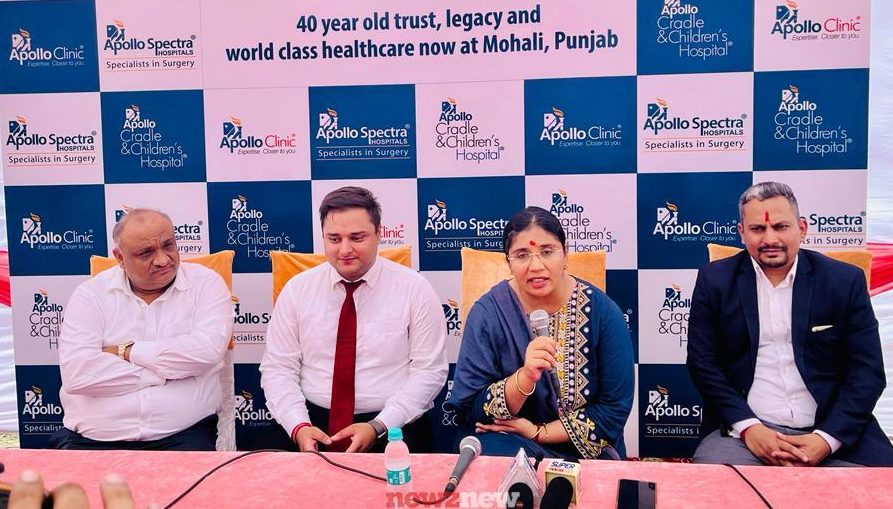 Apollo, a 40-year-old brand, has been a game changer in the world of healthcare across India and has helped enable access to comprehensive, affordable and personalized quality healthcare to the people of India – and is now available for the citizens of Mohali as well.
Apollo Spectra Hospitals offers world-class medical infrastructure including ultra-modern Operation Theatres, state-of-the-art ICUs, a comprehensive range of high-end modern diagnostics; dedicated Surgical intensive care units and well-equipped rehabilitation unit to enable quick recovery of the patients.
The new multi-specialty hospital will provide a wide range of services covering Orthopedics, General and Laparoscopic Surgery, Medical and Surgical Gastroenterology, Nephrology and Dialysis, Urology, Pulmonology, ENT, Dermatology, Neurology, Cardiology & CT Surgery, and Diabetology among others, offering preventive health care as well as out-patient and in-patient services.
Apollo Cradle & Children's Hospital, known for its cutting edge Women & Child Care services will bring a range of Obstetrics, Gynaecology, Maternal Fetal Medicine, Neonatology and Paediatric services including a level 4 NICU and high end PICU for enhanced care to Mohali. The center will focus on complete gamut of both preventive and curative care for Women and children under one roof.
Apollo Clinics is one of the leading chains of multi-specialty clinics in India.To maximize convenience and comfort, Apollo Clinic, founded in 2002, is an integrated model and offers facilities for Specialist Consultation, Diagnostics, Preventive Health Checks and Pharmacy, all under one roof. Furthermore, Apollo Clinics will also offer space for doctors to set up their consultation units.
About Apollo Health and Lifestyle Limited:
Apollo Health and Lifestyle Limited headquartered in Hyderabad was launched by the Apollo Hospitals Group in Year 2000 with Integrated approach – encompassing family health clinics, hospitals for women & children, fertility, diabetes management, diagnostics, short-stay surgeries, pharmacies, dental, condition-focused clinics. With presence at each touch point of the healthcare delivery chain AHLL have served nearly 8 million+ patients through 2500+ doctors in the last 20 years.
With a key aim "to bring medical care closer to the home of the patient, bridging the gap between tertiary care and the home", AHLL has established the nation's largest network for day-to-day healthcare that can be delivered outside large format hospital settings.