Maharishi Dayanand Public School celebrated Janmashtami: Amulya, Chandigarh. Maharshi Dayanand Public School, Dariya celebrated Janmashtami festival with great pomp in its premises MDAV Bhawan.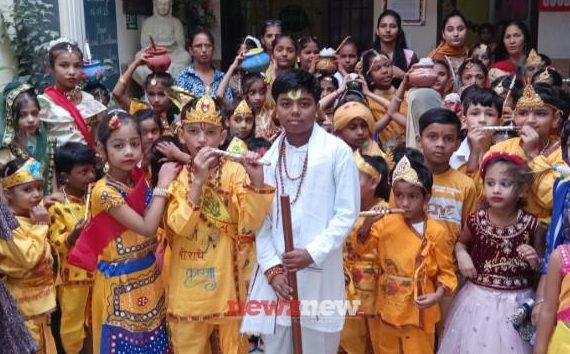 Most of the boys came to school in the costumes of Shri Krishna while the girl students came in the costumes of Radha. Students created atmosphere by making flute in hand, crown on head and peacock feather and make-up on face.
Dressed in Radha's costumes, the girl students were looking very beautiful in chunri and lehenga. some students dressed in costumes of Sudama and Dwarpal created a spiritual atmosphere in the school.
Students also danced on the hymns of Radha and Shri Krishna. Everyone was admired the kids of pre primary classes in beautiful costumes. School Coordinator Pradeep Kumar told that Indian culture is very rich.
The idea was to connect the children with their roots by celebrating the birthday of Yogiraj Shri Krishna.