Live by Design not by Default: Shiv Khera : The highlight of the second day of the 6th edition of Literati was the presence of world-renowned motivational speaker, management guru, and corporate trainer and author, Shiv Khera, whose latest book, 'You Can Achieve More' has just hit the book stores.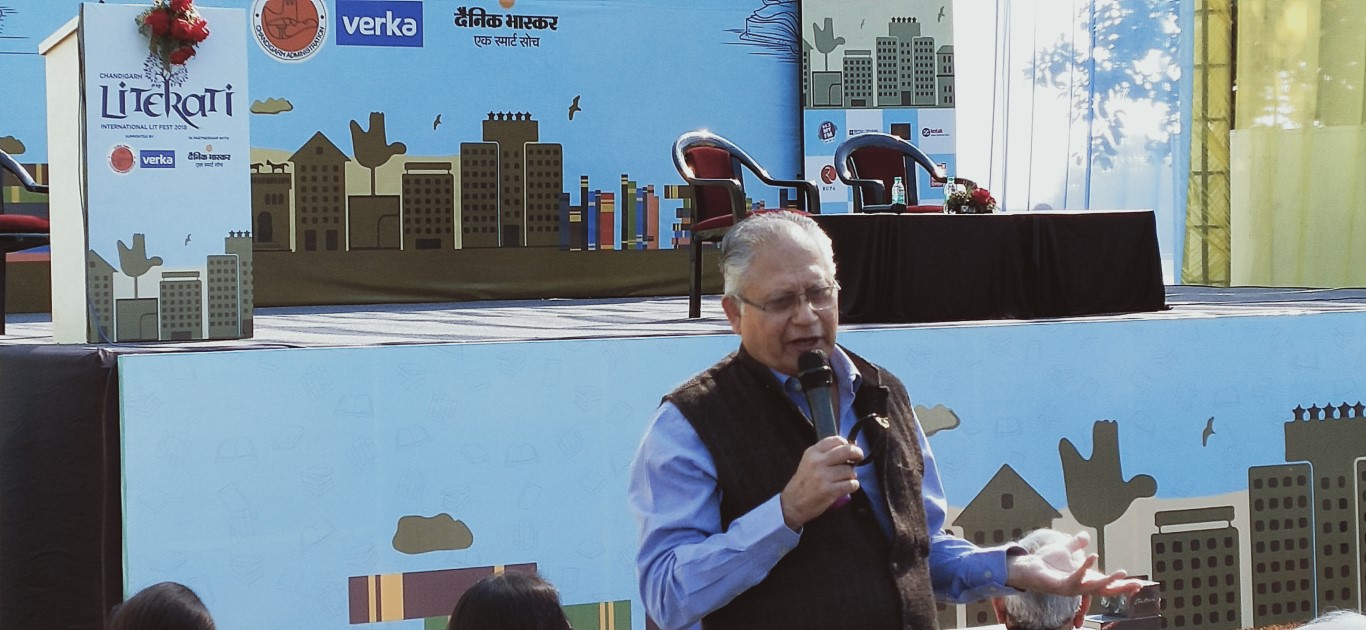 Known for his penchant for powerful one-liners, he remarked that thre is nothing called perfection in the world, since each one of us can always do more and achieve more, only if we learn to live by design and not by default, he said.
In order to stand out in the world, do something outstanding, he remarked.
This book, he said, teaches you to live an extraordinary life.
Sharing his life story full of initial struggles from washing cars to selling insurance, Shiv Khera said that in whatever he did he gave his best, but learnt some of the best lessons of his life from his seniors, who enlightened me that the biggest problem in achieving more was me alone and no one else.
In every organization the biggest problem is only people problem and there is a need to change one's attitude about work ethos and money too.
He said that the biggest difference is that of understanding whether you are making money or earning money.   Earning money in the rightful way is the only path to success, since making money is criminal while earning money is spiritual, he advised.
He lamented the growing indulgence of Indians with superstitions and horoscopes that not only makes them depend purely on fate instead of learning from their mistakes and take corrective action to grow up.
The session was attended by large number of people.
Gurucharan Das and Siddartha Giggo had session about their book Earthly Desires : Kama Diaries where Gurucharan Das said that kama has to be seen in an optimistic way, as not a mere objectified way of looking at different postures but a source of creation.
Siddhartha Gigoo on the other hand excerpted the essence of cross-border love in his book with struggle of displaced people of Kashmir.
Master Chef India winner Pankaj Bhadouria and runner up Kandla Nijhowne gave their view about the whole experience of food and cooking it as according to them cooking is sensory experience which involves all five senses.  They advised restrictive use of masalas and spices in the food, undercooking and focusing on lively eye-pleasing presentation when plated.
The biographer of Priyanka Chopra and Shashi Kapoor besides various other inside stories of Bollywood, Aneesh Chhabra in conversation with News18 editor Jyoti Kamal, talked about the changes that are pervasive in Mumbai to launch the kids of stars, whereas in earlier days it used to be a huge struggle for the star sons to establish themselves in the industry by sheer hardwork.
The Punjabi session in the afternoon explored the changes that have come about in the Punjabi music by celebrated lyricists and singers of both old and the new genre.
Shamsher Sandhu and Charan Likhari of old school, with Jaani as the new-age youthful singer and Punjabi novelist Masha Kaur, discussed with Ravee Pandher the nuances of the transformation in Punjabi cultural presentation that has come about which is a natural phenomenon.  While old school considered the traumatic cultural upheaval caused by the partition in 1947, the terrorism of 80s and now the unfortunate drug addiction that has destroying the social fabric of Punjab.
Jaani however said that because of the use of common phrases and understandable words from Hindi, coupled with growing trend in Bollywood to include Punjabi numbers in the movies, has helped the Punjabi music and songs getting worldwide acceptance and popularity.
The subject of gender inequality, female foeticide and not-so-much-talked-about subject of incest evinced keen interest among audience in 'The Balancing Act', where celebrated journalist and author Gita Arvamudan observed that male female ratio continues to deteriorate in the country despite the efforts and campaign by the government to stop female foeticide.  On the other hand a research scholar Supreet Dhiman shared the trauma that many children are facing today due to the taboo-word of incest in the family.
She remarkedt that incest has remained a taboo subject in the family but because of her research and initiative to end incest, there is growing awareness and many of the victims are being offered psychological help to overcome this mental trauma, while counseling is being provided by the Trust.
The panel moderated by Saguna Jain agreed to reach out widely in the society to balance out the social impact through timely interventions.
Celebrated author and entrepreneur Vineet Bajpai, former bureaucrat and motivational speaker and author Vivek Atray along with advertising professional and author Anisha Motwani, discussed the need to guide the coming generation with tips to managetheir life by learning to be self-motivated.
Rajneesh Watts and Raja Bhasin from Shimla shared the stories of their respective cities in conversation with Manju Jaidika.
Earlier in the morning Dr Jaishree Sethi  of Story Ghar from Delhi conducted a British Council workshop on story telling. Attended by adults as well as children Jaishree said that art of story telling helps teachers to effectively deliver the lessons to children as well as works equally well in the corporate sector.