TOP 50 INDIAN ICON AWARDS 2017 is most awaited award function where under one roof 50 selected Indians from all over are stand together and they facilitate the title "top 50 Indian icon" a kind of people who live for others and achieve a milestone in their work and put strait goal for our upcoming generation.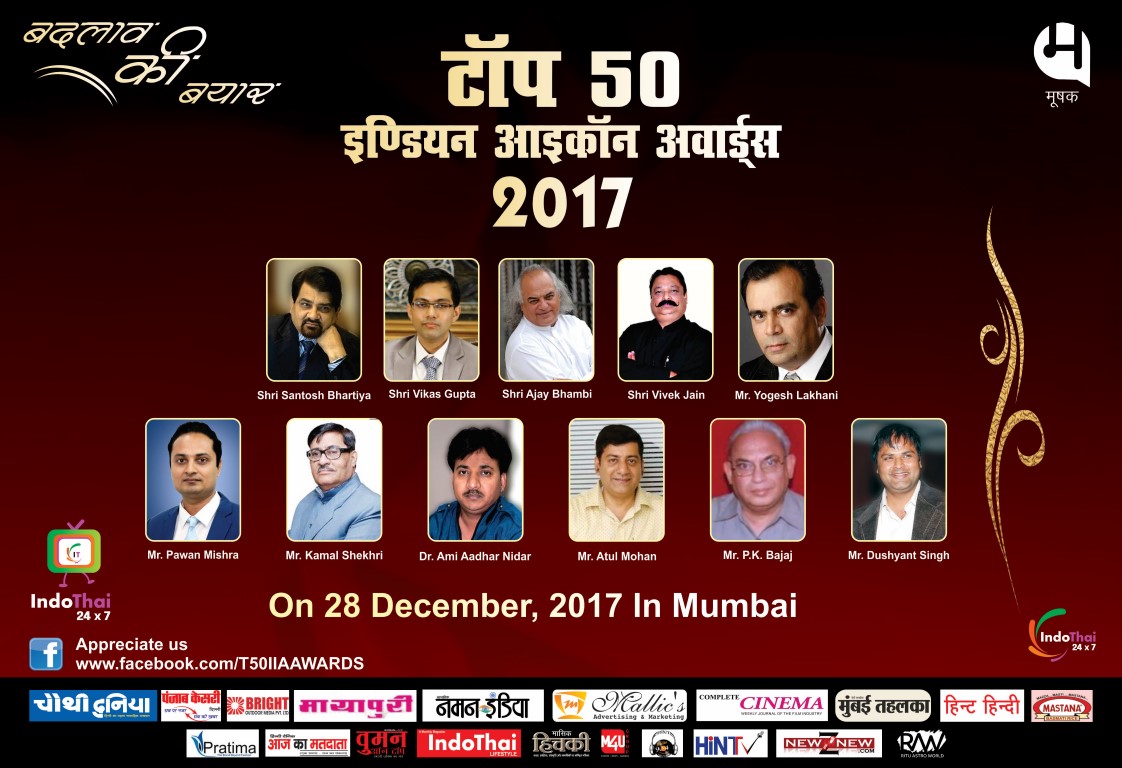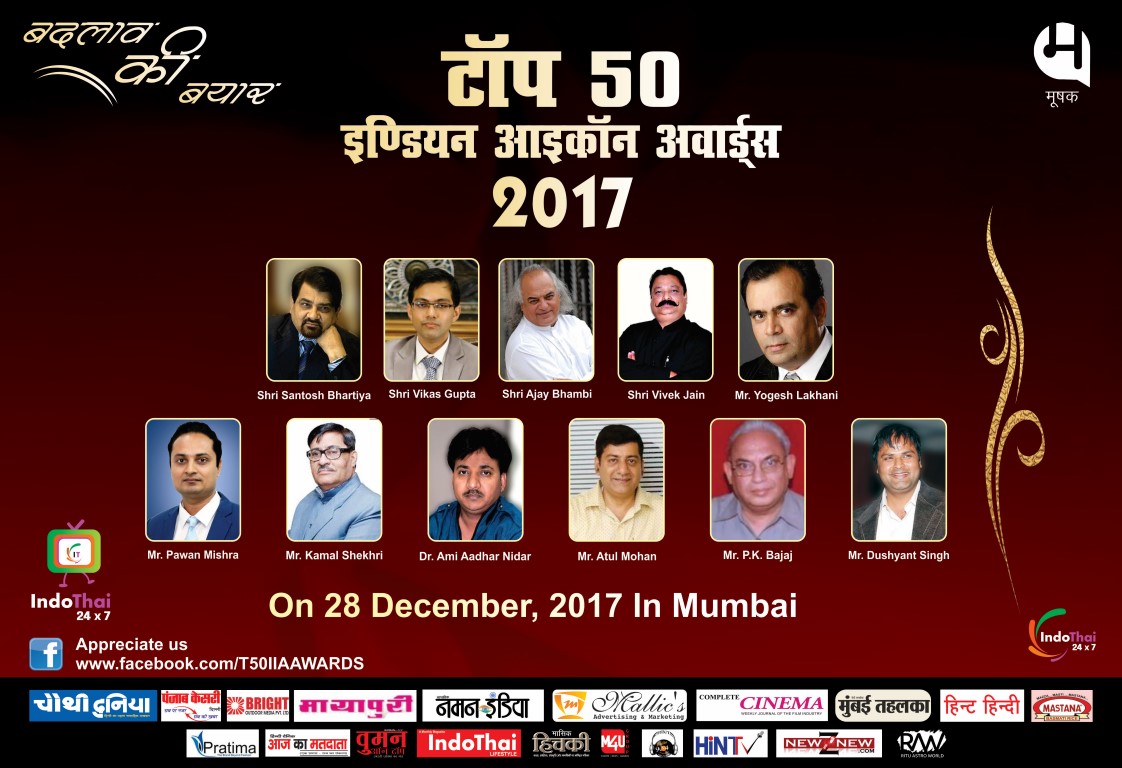 More than thousands of Indians are applied for this every year and selected one are be a part of this mega function. various fields experts are participating in this event like Politician, Artist, Journalist, Corporate, Social Worker, Educationist etc. this royal function organize by m4u group every year in Mumbai and always left positive thought and vibration everywhere.
The director of Award function Mr. Dushyant Singh said that our moto is create a batter environment for upcoming youth where they know who is behind them  the journey of success and saga of development they always keep their mind that the fight of living is not easy it take lot of time it take lot of generation it take true hard work which is always memorable and need positive recognition. He further shared that the award function will be held at Iskon Auditorium, Juhu (Andheri west) Mumbai at 7 pm onwards. The honorable Guest for the awrd ceremony is :
Shri.Shiv Pratap Shukla (Central State Minister Govt. Of India).
Shri.Sanjay Joshi (B.J.P.)
Shri. Ajay Bhambi (Astrologer)
Shri.Prem Shukla (B.J.P.)
Maha Mandaleshwar Martand Puri (Dharm Guru)
Shri Ashok Lahoti (Mayor Jaipur)
Dr.Jaspinder Narula (Singer)
Smt.Anjula Singh Mahore (B.J.P)
Dr.Rameshwar Chaudhry (B.J.P.)
Shri.Brijesh Mishra (Bharat Samachar)
Shre.Radhey Radhey Babuji (Dharm Guru)
Mr.Rajendra Jain (Sirvoswki Gem)
Shri.Ramesh Chopde (B.J.P.)
Ms.Pooja Mathur (Terro Expert)
Ms.Simer Bhatiya (Director/Writer)
Mr.Maneesh Awasthi (Journalist)
Ms.Arjuman Mughal (Actress)
Mr. Vinay Singh (B.J.P.)
Shri.Hari Das Gupta (Corporate)
Mr.Zaid Shekh (Artist)
Mr. Anurag Gaur (Mushak)
Shri.Anand Sharma (Composer)
Shri.Pramod Kaul (Business Entrepreneur)
Ms.Roshni Waliya (Actress)
Shri.P.K.Bajaj (Mayapuri)
Mr.Virendra Mishra (Journalist)
Mr. Anuj Gupta (Singer) etc
Member Of Jury
Shri Santosh Bhartiya (Ex. M.P. & Chief Editor Chauthy Duniya)
Dr. Sukesh Yadav (Chancellor J.S.University)
Dr. Kumar Ganesh (Numerologist)
Mr.Yogesh Lakhani (BRIGHT)
Mr. Kamal Shekhri (C.M.D. HINT MEDIA)
Dr. Ami Adhar Nidar (Chief Editor Hichki)
Dr. Khushboo Zafar Kadri (Hair Transplant)
Mr. Atul Mohan (Chief Editor Complete Cinema)
Mr. Vivek Jain (Journalist)
Mr. Pawan Mishra (Social Worker)
50 ICON FROM ALL OVER:
Mr. Pawan Khachru (Dubai)
Mr. Vikas Gupta (Singapore)
Mr. Karan Singh (Thailand)
Mr. Ashok Mishra (Mumbai India)
Mr. Sunil Pal (Mumbai India)
Mr. Abhay Kumar Singh (Lucknow India)
Smt. Rupa Satrupa Pandey (Lucknow India)
Smt. Pratima Mishra (Thailand)
Mr. Manaram Dhanvantari (Shrilanka)
Mr. Harinder Ji (Thailand)
Mr. Thamin Ansari (Thailand)
Smt.Reena Bhartiya (Social Worker)
Mr. Maneesh Anchalia (Jaipur)
Smt. Mayuri Singh (Thailand)
Mr. Jimmy Singh (Thailand)
Prince Rajesh Laddha (Thailand)
Ms. Raveena Sawhaney (Thailand)
Mr. Ashok Agarwal (Kota India)
Mr. Himanshu Jhujhunwala (Mumabai India)
Mr. Deepak Malhotra (Mumbai India) Film India
Mr. Shishir Singh (Agra)
Mr. Ravi Singhal (Agra)
Mr. Sushil Agarwal (Mumbai India)
Ms. Navnidhi Vadhwa (Mumbai India)
Mr. Shyam Sharma (Mumbai India)
Ms. Sanjeevani Bhelande (Mumbai India)
Mrs. Sweety Waliya (Mumbai India)
Mr. Vishal Omprakash (Mumbai India)
Mr. Raju Kariya (Mumbai India)
Mr. Gautam Chakroborthy(Mumbai India)
Mr. Manoj Bhatiya (Mumbai India)
Mr. Manoj Agarwal (Mumbai India)
Mr. Ramanacharya (Kerla India)
Mr. Vishal Mishra (Lucknow India)
Smt. Menka Mishra ( Alahabad India)
Mr. Amit Banerjee (Alahabad India)
Dr. Sunil Kumar (Delhi India)
Mr. Dinesh Saxena (Agra India)
Ms. Shilpi Shah (Rajasthan India)
Mr. Shyam Jagota (Kanpur India)
Ms. Anju Soni (Maharashtra India)
Ms. Neelu Neelpari (Delhi India)
Mr. Avadh Bihari Pandey (Khajuraho)
Mr. Sukhvinder Singh (Ghaziabad).  etc
Our Royal Associates :
Panjab Kesari
Chauthy Duniya
Mayapuri
Complete Cinema
Hint Media
Hichki
Naman India
Newznew.com
BRIGHT
Mallik Outdoor
Mumbai Tahelka
Aaj Ka Matdata
Indothai News 24×7
Ritu Astro World
Sem t.v.
MUSHAK
R.M. Dairy Product.