Spain's Madrid Tennis Federation MoU with CLTA renewed for three years
NewZNew (Chandigarh) : With the success of the mutual agreement that Chandigarh Lawn Tennis Association (CLTA) signed with its Spanish counterpart, Madrid Tennis Foundation (MTF) in 2013, a fresh protocol was signed here today, extending the arrangement for another three years (from 2016to 2019).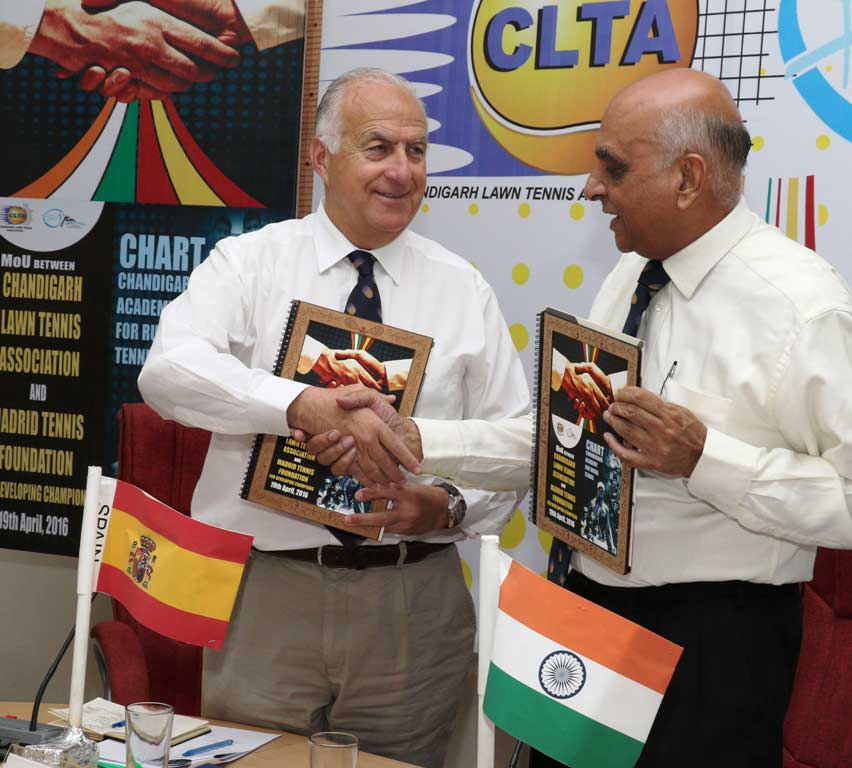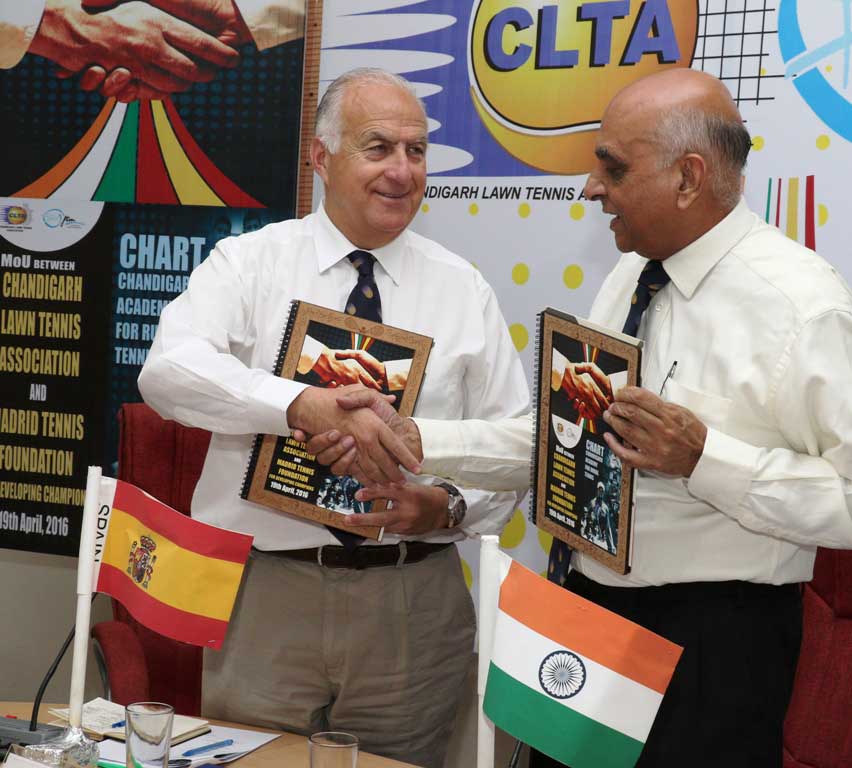 The renewed protocol signed by Miguel Diaz Roman, President of Madrid Tennis Federation was handed over to Rajan Kashyap, Patron-in-Chief of CLTA and Chairman of Chandigarh Academy of Rural Tennis (CHART), for his signatures by MTF representative Javier Sansierra at CLTA tennis stadium here today.
With this protocol the CLTA shall continue to receive the world's top tennis coaches to the city to upgrade the training of tennis players here, and the best performing players from the CLTA would continue to visit Madrid, Spain, annually for advanced coaching, informed Rajan Kashyap.
CLTA's endeavours to pick up the talent from rural areas and training these students in the world-class facilities, with opportunity to learn from the world-class coaches have helped the high performers at CLTA tremendously. The young boys and girls selected from remote villages in Punjab and Haryana are showing spectacular results in tournaments in India in their respective age groups.
Jai Singh Gill, President, CLTA informed that under the last agreement (during the period 2103-16)  6 to 10 tennis players accompanied with a coach had visited Madrid three times in the period 2013-16, while four of the world-class coaches came to the city for training the locals.
On behalf of Madrid Tennis Foundation Javier Sansierra expressed complete satisfaction with the progress demonstrated by the young potential tennis champions in tournaments played by them in Madrid, Spain. He announced that on April 24, he himself, along with a group of 8 trainees (six boys and two girls) and  Romen Singh, Chief Coach CLTA would be travelling to Spain for a 3 week attachment in Madrid.
Later during the year, around November, 2016 MTF would be sending one of the best coaches from Spain to work with the trainees at CLTA for a period of two weeks.
On hand at the signing of the MOU were Birbal Wadhera and Robin Kumar Dhingra,  two distinguished champions from  the first batch of CHART enlisted in the year 1988. These alumni are role models for the new crop of players