NewZNew (New Delhi) : Manpreet Singh Badal, an estranged nephew of Punjab Chief Minister Parkash Singh Badal, on Friday merged his People's Party of Punjab with the Congress to unitedly take on SAD-BJP in the assembly polls in the state early next year.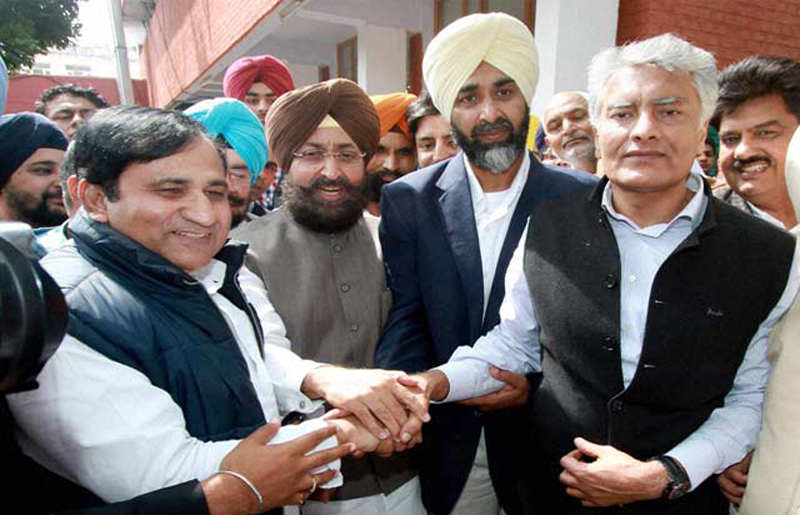 The merger was announced at the Congress headquarters here in presence of Punjab Congress chief Amarinder Singh and party leaders Shakeel Ahmed, Ambika Soni and Partap Singh Bajwa.
Amarinder Singh said that the Congress had lost the last two assembly polls by very slender margin of votes and the party was working towards alliances He identified the Left parties and the Bahujan Samaj Party as potential allies, saying that merger of the PPP had been concluded.
"We are very happy. Manpreet Badal has merged his party with us… Hope we will be able to forge a strong alliance for the election," he said, adding Manpreet Badal underplays his position but he has a pan-Punjab image and his party was present in all districts.
Manpreet Badal said his party was merging with the Congress unconditionally.
Noting that he had been the youngest legislator and youngest finance minister in Punjab, he said he had parted ways with the Shiromani Akali Dal-led government in 2010 following differences with its leadership and had floated a new party in 2011.
He said that Punjab was once the leading states of the country but had badly lost its position.
Manpreet Badal, who fought the 2014 Lok Sabha election as a Congress candidate from Bathinda against Harsimrat Kaur Badal, the wife of his first cousin and Deputy Chief Minister Sukhbir Singh Badal, and lost narrowly, said that merger talks had been in the works for some months.
He said he met Congress vice president Rahul Gandhi thrice and his emphasis was "on agenda of Punjab".
"How will you turnover Punjab, that was the agenda. We submitted a 11-point memorandum and the Congress accepted it and said it was its own agenda also," said Manpreet Badal.
"We felt Congress will be good, right and only platform. We were treated with a lot of respect. They won our hearts," he added.
Asked why his party did not join hands with the Aam Aadmi Party, he said that "they do not have a blueprint to turn around Punjab".
"We felt Congress is a bigger, better, more experienced platform. Our effort will be to form a Congress government," he said.
The PPP earlier formed an alliance with the Left and other smaller parties under the banner of 'Sanjha Morcha' just before the January 2012 assembly elections in Punjab but none of them won any seat.
However, the PPP garnered a six percent vote share, playing a spoilsport for the Congress that ended up with 46 seats as against 56 of the Shiromani Akali Dal and 12 of the Bharatiya Janata Party. Three seats in the 117-member assembly were won by Independents.
The Congress and the PPP had subsequently announced an alliance in March 2014 for elections to the 13 Lok Sabha seats in the state.