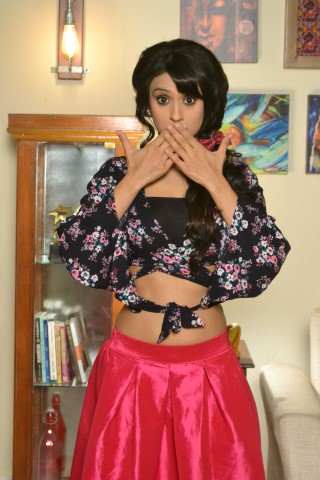 newznew (Chandigarh) : After solving the diamond robbery case, Dinanath and the Trideviyaan have another difficult case at hand.
Dinanath Chauhan (Rituraj Singh) is on a mission to expose a corrupt CBI officer who is coming to test the food of DN's catering. He makes a truth serum, if a person consumes starts blurting out the truth. His plan is to make the CBI officer drink the serum in order to make him reveal the truth. But his plans fails when instead of the CBI guy Manu ends up drinking the serum.
In a series of events, eventually Manu (Shalini Sahuta) reveals the top secret of her family and the top secret being that her father and her two sisters-in- law are secret agents. Because of Manu's revelation, Dinanath, Tanu (Samaira Rao) and Dhanu's (Aishwarya Sakhuja) plan almost gets failed in front of the CBI officer. After their identity gets exposed, they have two missions in front of them; one is to take care of Manu so that she does not reveal further information about them and second is to get the truth out from the CBI officer.
How will Dinanath solve this case? Will Manu go ahead and reveal more information on the Chauhan's and their secret mission?
Commenting on the track Shalini Sahuta who plays Manu says, "This track will reveal the truth of Trideviyaan and Dinanath Chauhan which is a secret since many months. It will be interesting to see how the Chauhan's will try to sail through the situation and track the case."
To watch how the Trideviyaan struggle to keep their mission top secret, tune into Trideviyaan, Monday–Friday, 9.30pm only of Sony SAB!