NewZNew (Chandigarh) : The Board of Vodafone India today announced that Marten Pieters will be standing down as Managing Director and Chief Executive of Vodafone India with effect from 1 April 2015 and will be succeeded by the Vodafone India Chief Operating Officer, Sunil Sood. After that date, Mr Pieters will continue to remain on the Board of Vodafone India in a non-executive capacity.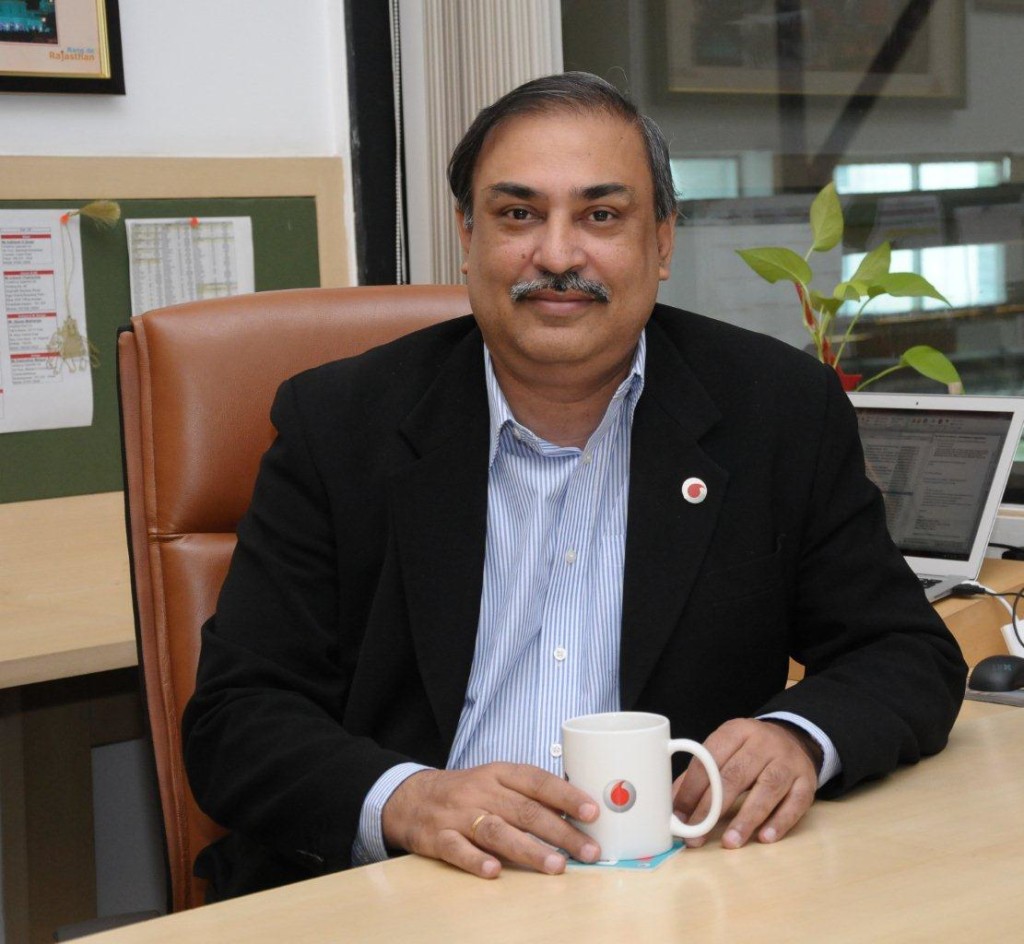 Marten Pieters was appointed as Vodafone India Managing Director and Chief Executive in February 2009 after an international telecommunications career which included Board-level roles with KPN, Celtel and Millicom. Under his leadership, Vodafone India doubled revenues, added more than 100 million customers, increased market share and launched data services used by more than 57 million customers. The longest-serving Chief Executive of an Indian telecommunications company, he has led Vodafone India's participation in all spectrum auctions since 2009. Mr. Pieters was appointed as the Chairman of the Cellular Operators Association of India (COAI) in 2014.
Marten Pieters will be succeeded as Vodafone India Managing Director and Chief Executive by Sunil Sood. Mr Sood is currently the Vodafone India Chief Operating Officer. He is responsible for day-to-day operations and P&L management together with new business development initiatives including the launch and expansion of mobile commerce activities. Mr Sood joined Vodafone India's predecessor business, Hutch, in 2000 and has held roles leading the company's operations in Gujarat, Kolkata and Chennai. He had previously worked for Pepsi in a range of Indian and international leadership roles. Mr Sood graduated with a B Tech from IIT (Delhi) and PGDM from IIM (Kolkata) and is also a graduate of the Harvard Business School Advanced Management Program.
The Chairman of the Board of Vodafone India, Analjit Singh, said: "Marten's term as Chief Executive has been marked by outstanding business performance and exemplary leadership in a highly complex sector and operating environment. He is to be commended for his many achievements and hands on to his highly experienced and respected successor the stewardship of a substantial enterprise serving the needs of 174 million customers. Sunil has extensive operating experience and knows Vodafone India from within. He is therefore a great choice to grow and expand the business and I look forward to a successful transition."
Vodafone Group Chief Executive for the Africa, Middle East and Asia-Pacific region, Serpil Timuray, said: "Marten has successfully led Vodafone India through a period of rapid evolution, establishing the business at the forefront of Vodafone Group's international portfolio while building strong organisational capabilities for the future. He has made an immense contribution to Vodafone over the last six years. The business will remain in good hands with Sunil who has also been integral to the growth of the company and the development of its capabilities, helping to drive consistent results through both good and challenging years."
Vodafone Group Chief Executive Vittorio Colao said: "Marten has been a fantastic leader in India and a wise and trusted contributor across the Group as a whole. He will stand down from his role as Chief Executive with warm thanks from everyone in Vodafone. I look forward to working with Sunil to build on the successes of a business widely admired in India and internationally."
Vodafone India Managing Director and Chief Executive Marten Pieters said: "It has been a pleasure and a privilege to lead Vodafone India and I would like to thank all of my colleagues for their passion and commitment in support of our goals over the last six years. I am delighted to hand over to Sunil; we have worked closely together throughout my time with Vodafone and I could not wish for a better successor."
Sunil Sood's successor as Chief Operating Officer will be announced in due course.
About Vodafone India:
Vodafone India is a 100% fully owned subsidiary of the Vodafone Group Plc. with operations across the country serving around 180 million customers. Commencing operations in 2007, Vodafone in its long-term commitment to India, has built a robust business in a highly competitive and price sensitive market. Vodafone India has been providing innovative, customer friendly and reliable products and services by continuously differentiating itself with a strong brand, best quality network, unique distribution and great customer service. This has been acknowledged at several prestigious forums where Vodafone India has won awards and recognition across different segments consistently.
Serving the needs of businesses, Vodafone Business Services provides total telecommunications (Voice and Data) solutions across mobility and wireline platforms. With the advantage of global expertise and experience and the knowledge of local markets, the business is run through the following verticals – Vodafone Global Enterprise (VGE), National Corporate (NC), Small and Medium Enterprise (SME) and a dedicated vertical for Government customers. Vodafone Business Services has steadily taken leadership position and is currently providing both mobile and wireline services to global and national businesses equipped with a robust and superior network infrastructure and a 24×7 NOC.
M-Pesa is a unique and innovative money transfer service from Vodafone. Serving the needs of the unbanked and under-banked customers, Vodafone M-Pesa is a safe, fast and convenient way of bringing bank to the mobile. With a pan India distribution network of 85,000 agents and with more than 2.5mn customers, M-Pesa is the largest banking business correspondent in the country. M-Pesa today plays a vital role in enabling financial inclusion and m-commerce.
As a value based organization, Vodafone is committed to achieving the highest standards of Health, Safety and Well-being not only for its employees but also for all its partners. At Vodafone, sustainability is an integral part of the company's mission and strategy, shaping the conduct of business every day. 'Vodafone Cares' is a platform to showcase all the good that Vodafone does for the society and has championed several projects and initiatives under the three pillars of Education, Environment and Empowerment. The Vodafone Foundation in India is committed to leverage the potential of mobile technology to address some of India's most pressing challenges relating to education, health, equality and access. Its activities focus on the 4Ms of empowering individuals – m Health, m Education, m Agriculture and m Women.
Vodafone is one of the world's largest telecommunications companies with over 438 million customers in its controlled and jointly controlled markets as of 30 September 2014. Vodafone has equity interests in telecommunications operations in nearly 30 countries and around 50 partner networks worldwide.