McDonald's and BTS Partner to Offer the Supergroup's Favorite Order: Get ready, because the Golden Arches are about to shine even brighter thanks to a new collaboration with 21st century global pop icons, BTS.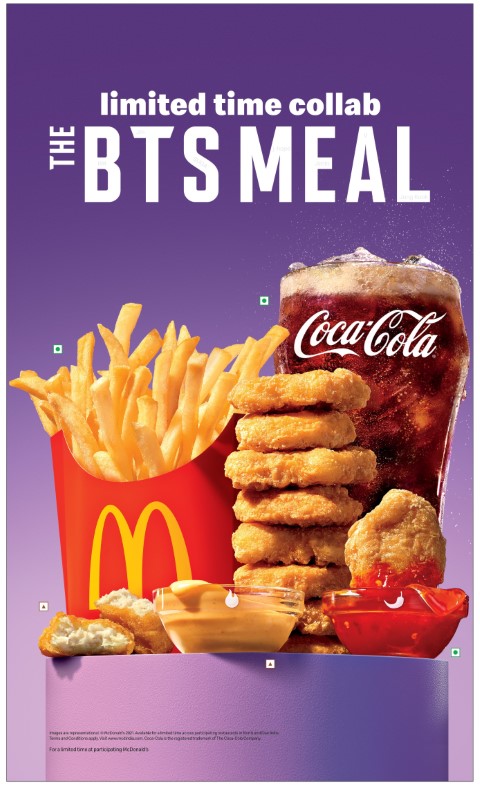 This one-of-a-kind menu "tour" has arrived in McDonald's outlets in India, when customers can enjoy the band's signature order at participating restaurants across Chandigarh and Panchkula.
The BTS Meal includes a [10-piece] Chicken McNuggets®, medium World Famous Fries®, medium coke, and Sweet Chili and Cajun dipping sauces inspired by popular recipes from McDonald's South Korea.
"The band has great memories with McDonald's. We're excited about this collaboration and can't wait to share the BTS Meal with the world," says BIGHIT MUSIC, label of BTS.
Since 2013, BTS has topped music charts and brought people together from all over the world through their music and positive messages. In India, too, the band has quite a phenomenon fan following, especially among Gen Z and millennials.
India ranks among the top five or six countries contributing to music-video views of K-pop bands*. Over the next few months, BTS fans in India will find themselves that much closer to their favorite artists… because for the first time since McDonald's launched its celebrity signature orders program in the U.S. last year, the BTS Meal is available in India.
"No matter who you are, everyone has a go-to order at McDonald's – even international superstars like BTS." said Rajeev Ranjan, Chief Operating Officer, McDonald's India – North and East. Connaught Plaza Restaurants Pvt. Ltd. operates McDonald's restaurants in North and East India.
"This band is truly a global phenomenon with a fanbase that knows no borders, and we couldn't be more excited to bring the BTS Meal to our customers in India."
McDonald's customers can now order the BTS Meal through McDonald's App, in-store, at the Drive Thru or via McDelivery (wherever allowed by the local authorities).