newznew (Ludhiana) : In this world of modern times, health has taken a back seat. Avoiding healthcare has perhaps become a way of life or may be inevitable in certain circumstances. When costs are overtaking incomes and ambitions are surpassing our capabilities, it's so obvious that convenience & accessibility has become the need of the hour. Keeping the patients' needs in mind & with due regards to our Doctors, technicians & drug store, MEDBHARAT, Ludhiana based company  has taken the initiative to blend digital technology of e-commerce with that of traditional approach to enhance accessibility for the patients & serve them better and providing everyone more cost effective source of buying medicines.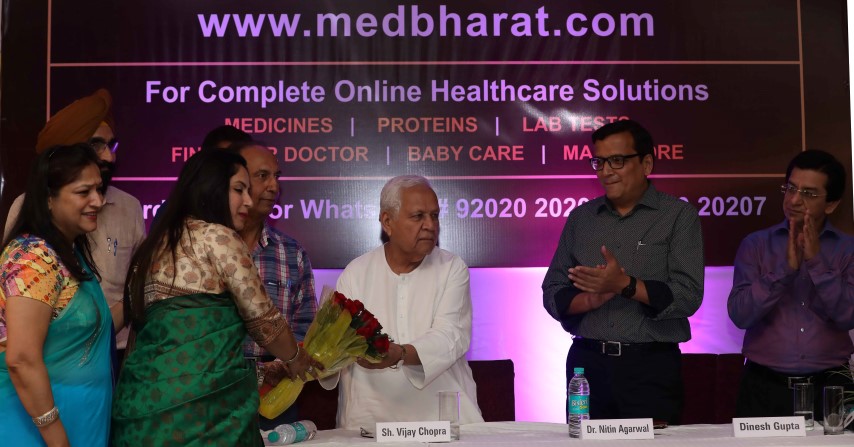 The idea for launching Med Bharat was mooted by three Ludhianvis coming from three diverse fields but a common passion, includes Dr. Nitin Agarwal MBBS, MS (Surgery), MCh (Urology) President of Ludhiana Urological Association, also runs Sri Balaji Super-speciality Hospital, CA Dinesh Gupta, an experienced Chartered Accountant having served top Industrial houses for three decades in Corporate affairs & Financial matters & young corporate honcho & meticulous planner Siddharth Gupta who has served global companies like  JP Morgan.
MedBharat.com provides a platform for the patients and users to order the medicines online which will be delivered at their home after verification of original prescription of a registered medical doctor. It has introduced a concept where not only discounts in prices of medicines are a big benefit; also it has an added advantage of medicines delivered at your door step. Additionally, Med Bharat is also providing the services of concessions on Laboratory and Diagnostic tests such as CT scans, MRIs and blood tests etc. MED Bharat.com takes care of complete health ranging from OTC Medicines to Protein supplements and Nutraceuticals, Wellness, Baby care and other Healthcare products at concessional rates.
Initially, the area covered under the services will include entire region of Punjab & UP. Speaking on the occasion of the launch of the website Director, Dr Nitin Aggarwal said that Med Bharat is a fully licensed e-pharma portal and we have obtained valid licences for the purchase and sale of wholesale Drugs and Retail drugs in terms of the Drugs & Cosmetics Act, 1940.
Dinesh Gupta, Director of the company informed that it will be for the first time that facility of ordering of medicines will also be provided on WhatsApp, making it simpler and easy for the patients located in remote villages and suburbs"