Medanta Medicity opens its OPD centre in Chandigarh at Omni Clinic and Diagnostic Centre.
First OPD on joint replacements held for tricity patients.
Super Specialists from various medical disciplines to bring affordable consulting to patients in tricity.
Telemedicine to follow suit to facilitate direct patient-doctor communication
newznew (Chandigarh), April 22:  Medanta Group has tied up with Dr Sandeep Singh Chhatwal to setup Medanta's MediConsult in Omni Clinics  & Diagnostics in the city for running OPDs.
Naresh Trehan, chairman and managing director of Medanta-The Medicity, Gurgaon, in his message said that growing demand from patients in the northern region for various super-specialities has led to the decision to have its permanent presence in the city through collaboration with Dr Sandeep Singh Chhatwal of Omni Clinics and Diagnostics, to cater to Chandigarh, Punjab, Haryana and Himachal Pradesh.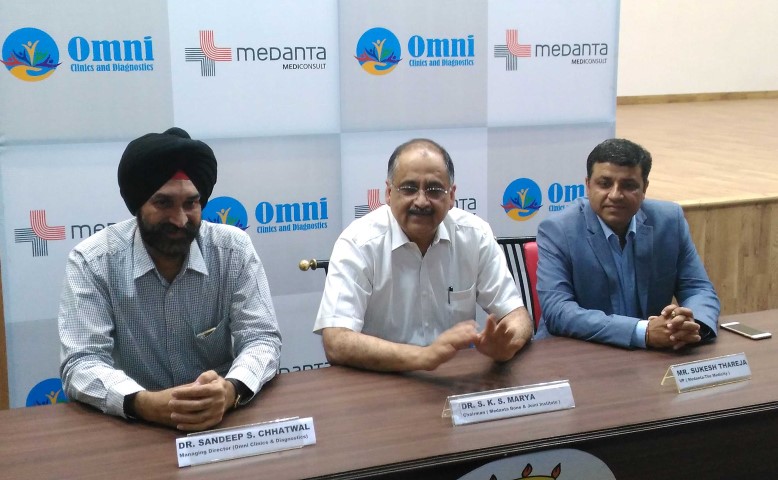 Instead of making patients to travel to Gurgaon, the super-specialists would be in the town to examin the patients from different disciplines, said Dr S.K.S. Marya, chairman of Bone and Joint Institute of Medanta who is an international authority in joint replacement with over 15,000 surgeries including 3500 simultaneous knee replacement and 3000 hip-replacement surgeries to his credit.
Dr Marya who conducted the first OPD at Omni Clinics today said that not every patient requires joint replacement  and since the technology is evolving rapidly the world over, some of the latest techniques are revolutionary which are customized to the patients' actual needs, as we at Medanta hold our accountable to our patients.
We treat patient as a person and not as an object, Dr Marya added.
Dr. Sandeep Singh Chhatwal of Omni Clinics and Diagnostics said that our mission is to help the people get right advice at the right time from the right super specialist, which we shall be facilitating.
Sukesh Thareja, Vice President of Medanta said that some of the super-specialists scheduled to visit the city shall be from paediatrics neurology, cancer, cardiaology, neurology, etc., which would be pre-advertised, and the next step would be to setup a tele-medicine facility so that the specialists at Medanta can be consulted by patients at their convenience too.
Medanta – The Medicity was first set up at Gurgaon in January 2010. Now, the Group also operates two others medical facilities viz. Medanta – Mediclinic and Medanta – Mediclinic Cybercity in New Delhi and Gurgaon respectively.