The stylish SUV is refreshed with dynamic design, powerful appearance and available in three engine variants – GLA 200, GLA 200 d and GLA 220 d 4 MATIC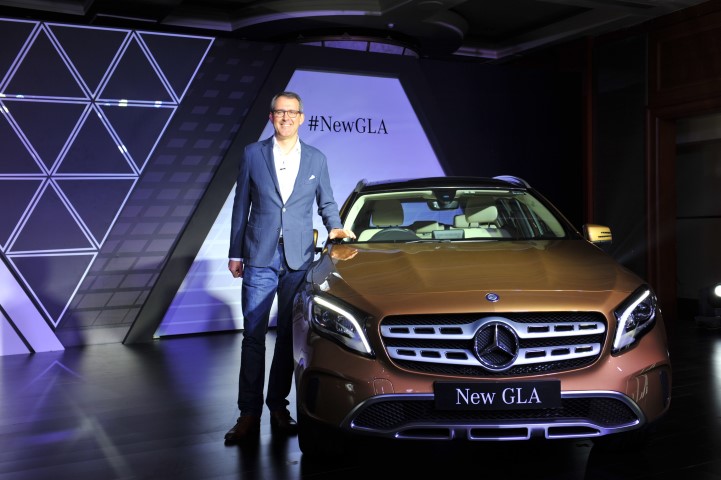 The country's largest luxury car maker Mercedes-Benz India today further strengthened its SUV segment with the launch of its luxurious compact SUV, the new GLA. After creating a mark for itself, the new GLA comes with an even more powerful appearance and host of new features. The new GLA is progressive and sportier with expressive design and revamped safety features to match the high standards of Mercedes-Benz. With the new GLA, Mercedes-Benz India is offering a versatile range of products aimed at a young, successful and dynamic customer base, which increasingly prefers a Mercedes-Benz. The new GLA was launched by Michael Jopp, Vice-President, Sales & Marketing, Mercedes-Benz India in Mumbai today.
Dynamic exterior highlights – The new GLA features a typical breadth emphasizing SUV design with athletic shoulders for a powerful and harmonious impression
Energetic Performance: The GLA 220 d 4MATIC features a 2,143 inline 4 engine with an output of 125 kW and a torque of 350 Nm capable of sprinting from 0-100 in a mere 7.7 seconds
Motorized by the 7G Dual Clutch Transmission, the GLA ensures rapid gear shifts, in turn enhancing the driving performance without compromising on fuel efficiency
7 cm (18-inch) 5-twin-spoke light-alloy wheels | Twin-pipe exhaust system with chrome-plated tailpipe trim elements integrated into the bumper
Better illumination – LED High Performance headlamps with fiber opticsand tail lights with a crystal look and innovative reflector technology
Ambient Lighting in 12 colours: 12 different colours | 5 dimming levels | Lighting with full LED technology
Versatile color portfolio: Mountain Grey, Cirrus White, Polar Silver Metallic and a new Canyon Beige exterior paint option
Urban Package brings out the sportiness of the vehicle with some high-quality highlights and chrome elements
Pricing: The new Mercedes-Benz GLA is priced at:
GLA 200 d Style: INR 30.65 lakhs| GLA 200 Sport: INR 32.20 lakhs
GLA 200 d Sport: INR 33.85 lakhs | GLA 220 d 4 MATIC : INR 36.75 lakhs
Speaking on the occasion, Michael Jopp said, "Ever since its launch, the GLA has won several hearts and minds and remains a key product in our portfolio. The GLA is an artful delineation of an urban SUV that fulfils the needs and desires of the avid adventurer who likes to arrive in style, wherever they go. Be it on daily tarmac or those weekend getaways, the GLA promises to enthral every emotion. The GLA is positioned towards the new-generation customers who aspire to own a stylish and dynamic luxury SUV, which perfectly combines practicality with emotive driving experience. With the launch of the new GLA, we are confident of remaining the first choice for customers, who desire sporty designs, top-notch interiors coupled with class leading performance and uncompromised safety features."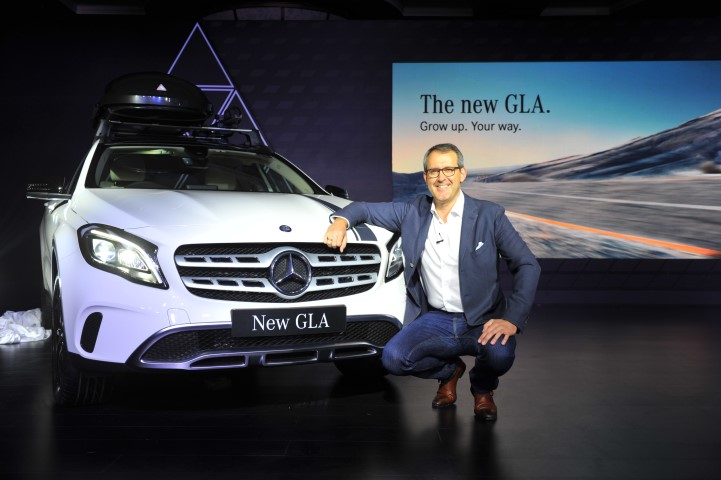 Mr. Jopp further added, "The GLA has been an outright winner in its segment as it carved a special place for itself, since its inception in 2014. We have received overwhelming feedback from customers and enthusiasts across markets. This compact luxury SUV is designed keeping in mind the varied Indian road conditions and subsequent customer expectations. It is by far one of our key volume sellers and we are confident that our customers will be bestowed by its unmatched beauty, capability and reliability. The top of the line GLA 220 d 4MATIC comes with permanent all-wheel drive system. All the four variants of the GLA will be locally produced in our state-of-the-art production facility in Chakan, Pune."
Driving Dynamics
4MATIC drivetrain in the GLA 220 d 4MATIC
7G Dual Clutch Transmission
Exterior Elements
LED High Performance headlamps with fiber optics
Crystal look LED tail lights with innovative reflector technology
Front end design with substantial radiator grille
New 18 Inch Alloy Wheel Design
All New Colour Option – Canyon Beige
Interior Elements
Sail pattern trim in Sport variant; Black matrix-look trim in Style variant
Central colour multifunction display – 11.4 cm screen diagonal
Tube-look: Back plate with concentric rings and pointers in metallic silver and red needles with ECO display to encourage a fuel-efficient driving style
Smartphone Integration package with Apple Carplay and Google Android Auto
Ambient lighting in 12 different colours with 5 dimming levels
The door sill panels in brushed stainless steel with their illuminated "Mercedes-Benz" lettering
Driver Assistance Systems and safety
In line with Mercedes-Benz tradition of making the safest cars, the GLA achieved the maximum 5 stars in Euro NCAP's safety ratings. The GLA offers the maximum number of 6 airbags in the segment. During a collision, the airbags help to protect the head and torso of the driver and front passenger. In addition they stabilize the entire body. This can reduce the risk of severe injuries in an accident. Activation is suited to the severity of the impact.
Various Driver Assistance Systems, such as Hill start assist, ESP, ASR, BAS are standard on the GLA 220 d 4MATIC. They will support the driver by stabilizing the car on difficult, wet and slippery terrain. Additionally these assistance systems will monitor and optimize traction just as required.
Key Standard Safety features
ESP®
BAS
DSR – Downhill Speed Regulation – GLA 220d 4MATIC
Attention Assist
Dual front airbags, Front side airbags, Curtain airbags and driver kneebag (7 overall)
Tyre pressure monitoring system