Doctors at Fortis Hospital, Mohali addressed senior citizens in a health talk around Cancer here today. The talk titled 'Understanding Cancer' touched upon various aspects about this dreaded disease as well as the available treatment options. More than a hundred senior citizens attended the session to understand its symptoms, causes and preventive measures. The talk was delivered by Dr Atul, Joshi, Additional Director, Breast, Endocrine and Oncology Surgery, Fortis Hospital, Mohali.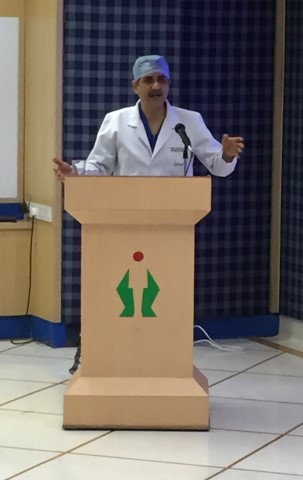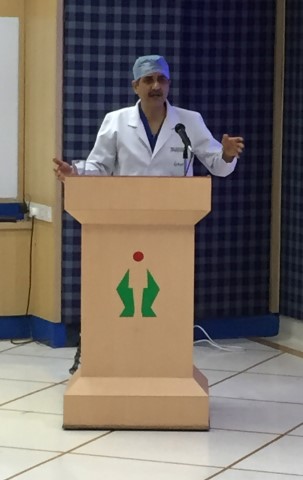 More than 100 senior citizens were given to understand the major types of cancer like breast cancer among women and oral cancer among men, the causes and reasons that causes them. It is startling that the number of cancer patients are growing by the day. The emphasis should be on early detection and treatment. The talk illustrated findings of a report that estimated a five year disease free survival (DFS) rate of 70%. The overall survival rate for Indian women is at 78%.
Speaking about major types of cancer, Dr Atul Joshi said, "It is important that certain factors are kept in mind for early detection of breast cancer. The disease stage, size of the tumour, menopausal status, family history, cardiac conditions, renal conditions, hypertension and liver functioning etc. are important factors that needs to be considered. It is also important that complete treatment and follow up is ensured for a better quality of life post treatment."     
Fortis Hospital Mohali is has a comprehensive cancer care programme. It has both Trans disciplinary and multi modal approach in treating cancer patients. A specialised Tumour Board reviews each patient to decide the most appropriate treatment procedure possible. With the help of cutting edge Radiation Therapy with world class Monaco Treatment Planning System and other latest therapies like VMAT, SRS, SBRT and SRT along with conventional therapies like IMRT, IGRT, ABC, 3D CRT and 4D symmetry, the best possible course is charted out. Treatment is delivered with sub-millimetre accuracy. In addition, FCI is equipped with Siemens Biograph True point with HD PET-CT, which combines the benefits of both. It has the ability to detect lesions as small as 1 mm, with minimal radio pharmaceutical dose.
Advising a healthy lifestyle, Dr Joshi said, "It is essential that we adopt a healthy lifestyle and quit smoking, tobacco and alcohol completely. It is important to do self-examination on regularly. Some types of cancer such as those of the skin, breast, mouth, testicles, may be detected by routine self-exam. Do not hesitate to take an expert advice if you feel that something is not right."  
According to Indian Council of Medical Research (ICMR), more than 14.5 lakh new cancer cases were identified in 2016 and it is projected to reach nearly 17.3 lakh new cases 2020[i]. Breast cancer accounted for 1.5 lakh (10% of all cancer patients) new cases in 2016, making it number one cancer overall. Lung cancer has affected an estimated 1.14 lakh (83,000 in males and 31,000 in females) new cases during 2016. It is projected to reach 1.4 lakh cases by 2020. Cervical cancer is the third most common type of cancer with almost 1 lakh new cases reported in 2016. It is projected to reach 1.04 lakh cases in 2020. Tobacco is still leading cause of cancer directly responsible at least 30% of all cancer patients.