Camp to be held across all authorised workshops pan-India, from July 21 to 

August 31, 2017
Monsoons have arrived in the country, a season that is much awaited by many, a time when a drive with family and friends is almost considered essential. Mercedes-Benz India has introduced a complimentary Pre-monsoon Check-Up Camp for its discerning customers across the country. This is the season where the vehicle needs utmost care, safety and maintenance. We know what monsoon drives mean to each one of you and hence, we urge you to come to us with your Three Pointed Star and get a complimentary checkup and ensure your favorite Star is well protected. This complimentary service will be available at all authorised workshops from July 22 to August 31, 2017.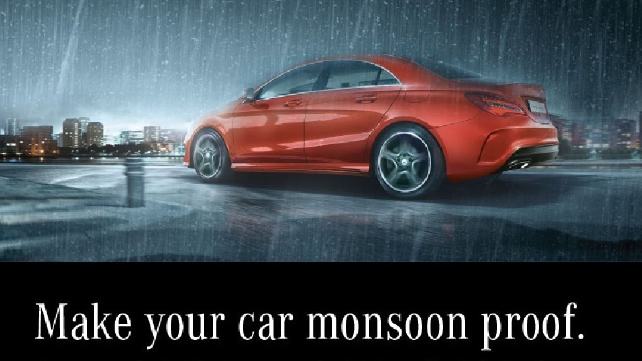 The rains provide much needed respite. However, they are accompanied by a series of related issues like waterlogging on the roads, a surge in the number of potholes, an increase in traffic and low external visibility. While Mercedes-Benz vehicles are equipped with various safety features and systems which help minimize the risk and improve drivability during the monsoon, it is always wise to get them checked out. The Mercedes-Benz Monsoon Check-Up Camp offers an array of services and products to enhance customer safety, comfort and convenience by ensuring their three-pointed star is primed for the wet season.
At the complimentary Mercedes-Benz Monsoon Check-Up Camp, customers will benefit from the following services:
Complimentary Exhaustive 82-point vehicle check-up
Complimentary Engine oil top-up
Complimentary Windshield washer replacement
Mercedes-Benz certified tyres at a special price
Replacement of wiper blades at a special price
Safe Driving Tips, which were shared as a part of the customer awareness drive:
Do not speed on flooded roads and avoid driving in areas which are subject to heavy water logging
Driving fast over large puddles can lead to aquaplaning, which could be dangerous as the tyres lose contact with the road surface. Slow down when driving over road sections that have large patches of water
Maintain adequate distance from the car in front of you to avoid collision in case of sudden braking
Check tyres for enough tread depth (2mm and above) to ensure traction and avoid aquaplaning
Do not use cruise control during heavy rains
Do not restart your engine if it stalls while traversing a water-logged area. This can cause severe damage to the engine. Call road-side assistance and have your vehicle towed to the nearest authorized Mercedes-Benz workshop
Slow down while taking turns and park and wait during torrential rains
Use A/C system/demister to clear the fog on the windshield
Apart from the aforementioned precautionary measures, we at Mercedes-Benz India provide many tailor made service packages for our esteemed customers across the country.
STAR EASE Service package– Feel the privilege of completely relaxed ownership experience with Mercedes-Benz STAR EASE service packages. It includes a defined cost of maintenance, priority handling, shorted wait time and quicker processes. You only pay a defined amount according to the vehicle model, contract period & mileage.
Advance Assurance Program: Continuing our endeavour of providing the Best Customer Experience to our discerning patrons, the launch of the 'Advanced Approved Program' promises to drive tremendous value to a new as well as an existing customer. This unique product will enhance the vehicle ownership experience even further beyond the standard warranty tenure of 3 years. Advance Assurance Program will be available in 3 options, namely 4th Year, 4th & 5th Year and for 4th, 5th, and 6th Year.
Mercedes-Benz Approved Tyre: The association with M/S Continental is pivotal in introducing the range of high performance Mercedes-Benz Approved Tyre, to the currently available range of high-end product offering from the brand with the Three Pointed Star. Mercedes-Benz India also chose Continental Tyres as 'the preferred tyre supplier for the year 2017' for supplying to the replacement market across its dealerships.
Besides, we believe in being connected with our customers at all times. As a team of professional engineers, we understand that certain unforeseen situations may arise, especially when one drives on a highway or beyond city limits. Here is an insight to our class-leading on-road assistance program:
Mercedes-Benz on-road assistance program – Mercedes-Benz On-Road Assistance retail program is an extension of the comprehensive breakdown assistance service provided as standard with your Star. While you benefit from 3 years of complimentary service, you can extend the privileges for the 4th year and 5th year of ownership. The program includes an exhaustive list of services, some of which are mentioned below.
One point of contact – 1800 102 9222
Accommodation – Hotel accommodation to passengers in case of vehicle immobilization
Coverage across India – Support available for more than 700 locations across India
Air Travel – Air fare for onward/return travel in case of vehicle immobilization
Medical Co-ordination – Medical co-ordination in case of accident and injures to passengers
Vehicle Towage Service – Quick recovery of your vehicle to the nearest authorized Mercedes-Benz dealer
Mobility benefits – Support provided for tire, battery, keys & fuel problems
Privileged pick-up from the breakdown location to your destination – Taxi service to passengers in case of vehicle immobilization
Currently,the retail ORA Program can be purchased for the 4th and 5th year individually at just Rs. 3,999* per year.