Mint Life Sciences launch BV-Clean (Bacteria and Virus Clean) which last for 7 days: Mint Life Sciences (P) Ltd, a research oriented pharma company, which is into manufacturing, marketing and export of pharmaceutical products, launched BV-Clean (Bacteria and Virus Clean)  brand of 7 Days Anti-Viral Coat and Surface Cleaner, approved by IIT Ropar (A Govt. of India Enterprise).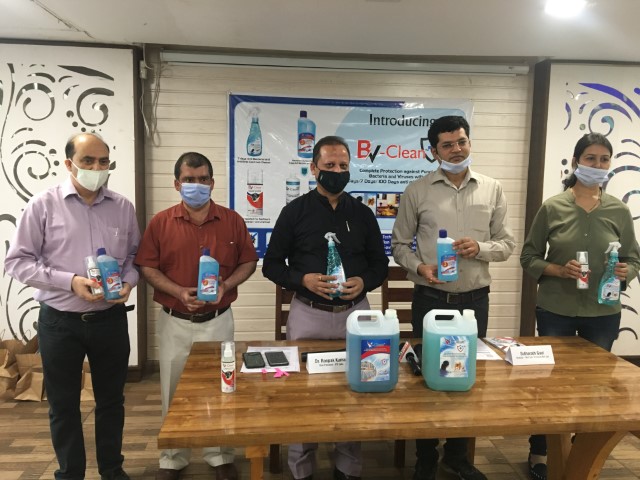 The products are being available at highly competitive prices as compared to daily cleaners. BV Clean-Shield is another unique product which is long lasting, self disinfecting, anti-viral and anti-microbial surface coating for 100 Days.
Sidharth Goel, Managing Director, Mint Life Sciences Pvt Ltd, said, "We have over 300 products under our own brand name, which include tablets, capsules, liquid syrups, ointments, dry powder and lotion etc.
We also have a highly specialized range of disinfectants and surface coatings for safe and hygienic living in workplaces, public places and homes. We have an R&D tie up with IIT Ropar (A Govt of India Enterprise) for development of various innovative products in our mission to constantly provide innovative products at affordable price."
He further said, "The BV Clean is a powerful surface cleaner, which not only gives shine but also provides anti-viral and anti-bacterial coat for 7-Days. Its regular application renews the coating for 7 days. Other products of the company include high specialized cleaners cum coating for various surfaces like glass, leather, floor, plastic, etc. These coatings are highly effective cleaners and also provide 7days/ 3-days anti-bacterial and anti-viral coat. The products are developed in technical collaboration with IIT Ropar, one of the premier Govt Institutes of India and tested in ITC Labs (NABL Accredited Testing Facility), manufactured in the facility of Mint Life Sciences (P) Ltd."
Dr Roopak Kumar, Vice President, ITC Labs was also present at the press conference. Surfaces where this product can be used may be anything from chair, glass, door handles, office or home furniture to appliances, keyboard, mouse and other regular touch Surfaces. The product is available in the packing of 500 ml Spray Bottle and 5 Litre Can for industrial use. Their testing reports are available from NABL approved lab. The plant and product is Indian FDA  approved. For further details please visit our website 
www.bvclean.info