Mistabaaz met with an unfortunate accident while shooting his first Hindi song, "Bang Bang" with renowned Big Boss celebrity – Akash Dadlani and Jimmy Choo Girl Priyanka Goyat in Jalandhar on Sunday. He had been on the set since morning when the camera lights suddenly fell of and hit the spot near Mista with a loud crash. The good thing was that he was pushed away by one of the crew members who perhaps noticed the light falling. But for the crew member the accident could have really been worse. Still, he got his sprained because of the jerk and the smashed glass hurt his hand.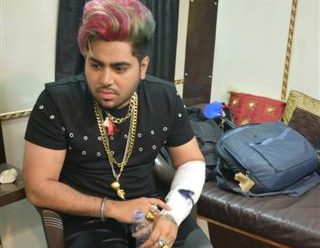 The shooting obviously was called off and he was rushed to the doctor. He was given immediate attention and treatment. Sources said, "He could not move his hand as expected doctor detected a sprain and tissue injury in hand. He should be resting for a few days to prevent the injury from getting any severe."
Mista was shooting his new song for Envy Worldwide, "Bang Bang" with Akash Dadlani and Priyanka Goyat. The three of them had been together since the poster making but with this accident Mista has left the course for a while. He had been recommended total bed rest for at-least a week.
Mista had been working really hard on this latest project, but with this sudden mishap he has to take a while's off.