They are gratified with a golden ticket to the NorthZonal crowning ceremony in Delhi on 12th April, 2018
India's most exciting, glamorous and credible beauty pageant is here and commenced its talent hunt at the fbb/ Big Bazaar store in Elante Mall, Chandigarh. The auditions received an overwhelming response and large crowds cheered as more than 80 contestants participating from all parts of the state.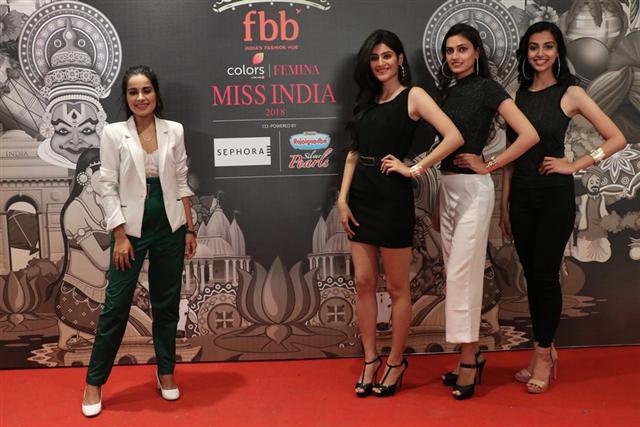 The auditions were judged by Sara Gurpal
Continuing the same format this year, Miss India in its 55th edition will be touring to all 30 states (including Delhi) of the nation and to crown 30 state representatives who will then compete for the coveted Miss India crown. The top 3 of Haryanawill proceed to the North zonal crowning ceremony to be held in Delhi at The Leela Kempinski ambience and Convention centre on 12th April2018. The store manager handed over a bouquet of flowers to the top 3 ofHaryana. At Delhi, the most deserving candidate from each of the 8 states i.e. Miss India Madhya Pradesh, Miss India Jammu & Kashmir, Miss India Uttarkhand, Miss India Haryana, Miss India Punjab, Miss India Himachal Pradesh, Miss India Uttar Pradesh and Miss IndiaDelhi will represent their state at the grand finale which is going to be held in Mumbai in June.
For the second time, the pageant will host mentors for each zone who will guide the contestants to merit. To take charge of the proceeding for the North Zone we have none other than the Femina Miss India 2002 and Bollywood Actress Indian actress and beauty queen who is predominantly known for her work in Hindi, Telugu and Malayalam language films, NehaDhupia.
She enthusiastically quoted, "I am ecstatic to be a mentor where I can value add on for the contestants. I will be re living my old days and I am looking forward to this journey to bring in my finest for everyone".
The details of the top 3 winners of Haryanaare:-
fbb Colors Femina Miss India Haryana 2018
Top 3
Name
Age
Birth City, State
Current City, State
Native City, State
School
College
Meenakshi Chaudhary
21
Panchkula, Haryana
Mohali, Punjab
Mohali, Punjab
St Soldier's Convent School, Mohali, Punjab
National Dental College & Hospital, Derabassi, Punjab
Nishi Bharadwaj
23
Mahendrgarh, Haryana
Delhi
Mahendrgarh, Haryana
Mira Model School, Janakpuri, New  Delhi
Bharati College, Delhi University, Delhi
Nikita Nanda
21
Chandigarh, Haryana
Punchkula, Haryana
Haryana
KBDAV Senior Secondary School, Chandigarh, Sector 7, Haryana
MCM DAV College, Chandigarh
Carrying forward the successful legacy of fashion and excellence, fbb – India's Fashion Hub – has come together, once again, with the Miss India team, to look for the next 'face of India'. fbb, being India's fashion hub, is extremely proud to play the partner yet again this year as the title sponsor of this coveted pageant. Proudly holding a lineage of transforming the lives of many talented young women, who have gone on to become icons in the fashion and glamour industry, fbb vows to continue this tradition, as it enters its fifth wonderful year in a row of its association with the Miss India title
For the past 6 years, the pageant has been in a strategic alliance with COLORS to achieve maximum mileage for the pageant.
The pageant is co-powered by Rajnigandha Pearls & Sephora.
The finalists of fbbColorsFemina Miss India 2018 will undergo vigorous training from the best experts of the industry before the Grand Finale to be held in June.
Title Sponsor: fbb
Exclusively On: Colors
Co-Powered By: Rajnigandha Pearls
Co-Powered By: Sephora
Digital Content Partner: Jio
Footwear Partner: Bata
Smile Care Partner – Invisalign
Confidence Partner: Triumph
Salon Partner: Naturals Salon
Jewellery Partner: Senco Gold & Diamonds
Skin Care Expert: Dr Tvacha
Technology Partner: Reliance Digital
Glowing Skin Partner: Blossom Kochhar Aroma Magic
Education Partner: INIFD
Knowledge Partner: INIFD Academy of Interiors
Travel Partner: Cox & Kings
Vision Partner: Kodak Lens
Timewear Partner: Inara by Gio Collection
Grooming Expert: Dr Blossom Kochhar
Radio Partner : Radio Mirchi
Multiplex Partner : Carnival Cinemas