Magic aims to digitize paper based corporate processes, including employee benefits and reimbursements, thereby saving an estimated processing cost of INR 60 million for organisations
By 2020, Magic aims to serve over 5 million beneficiaries, and achieve a revenue of INR 8,400 crores
MobiKwik, India's largest issuer-independent digital financial services platform, and a mobile wallet major, today announced the launch of Magic – India's first digital platform for end-to-end corporate processes, rewards & reimbursements. Magic is a SaaS-based institutional platform that aims to radically reform the employee benefit and reimbursements process by eliminating the constant challenges faced by both the employer and the employee.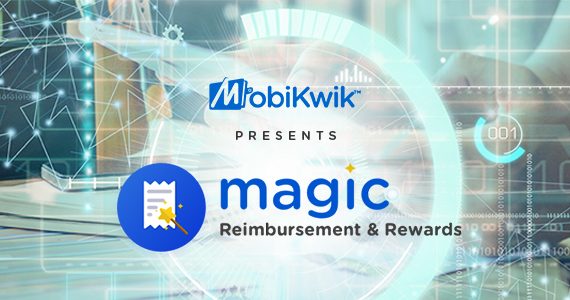 The employee benefit and reimbursements industry in India is estimated at INR 51,600 crores and is largely paper based. MobiKwik Magic aims to revolutionise the space with its pioneering digital enterprise solutions suite, thereby supporting corporates in saving time and resource costs. The product offering includes employee benefits such as reimbursements for food , fuel, medical , phone , LTA and other company benefits  – all accessible digitally for both corporations and employees on the MobiKwik app.
"Today, with the launch of Magic, we introduce a technology based revolution that will ease corporate processes, thereby simplifying lives of millions of employees in India. Magic makes the disbursal of employee benefit fast, simple and more efficient than ever. We aim to eliminate the estimated processing cost of INR 60 million for organisations, and benefit over 5 million users by 2020."  said Bipin Preet Singh, Co-founder and CEO, MobiKwik.
Organisations have realised the importance of digitizing their paper based processes in order to save time and resource costs, as well as maintain a high level of employee satisfaction.  MobiKwik has partnered with a few leading top corporates across sectors to digitize their corporate processes. With an easy on-boarding process for the companies, MobiKwik Magic can be used across the 3 million merchant network and offers instant payment with turn-around-time as less as 24 hours.
Elaborating on the issue of paper based corporate processes, Bikram Singh, Business Head and Senior Director, MobiKwik, said, "With several new developments such as UPI as well as the launch of the 'Digital India' campaign in conjunction with Fintech players already live in the Indian payments ecosystem, the vision of a digitally-driven Indian economy is fast becoming a tangible reality. We identified a problem in the system – the unwieldy process of paper based corporate processes. Our solution was to create a seamless solution that is income tax compliant and offers a better value proposition to corporate than any other solution out there."