Over 200 physiotherapists to attend conference
Live surgery workshop for physiotherapists to be held to empower role of physiotherapy in orthopedics and joint replacement
First-of-its-kind conference in region with introduction of most updated knee and hip systems relayed live to deliver better patient outcomes
NewZNew (Chandigarh) : A first-of-its-kind 'Elite Physiotherapy Conference' is being held at Max Super Speciality Hospital, Mohali on July 17. This will be attended by around 200 physiotherapists from region where they will learn through live surgeries and discussions about the recent advancements in the field of orthopedic and joint replacement rehabilitation protocols. A scientific session will also be deliberated on methods to regain the functional mobility and prevent hazards of limited activity as per different orthopaedics procedures that are being performed on a patient.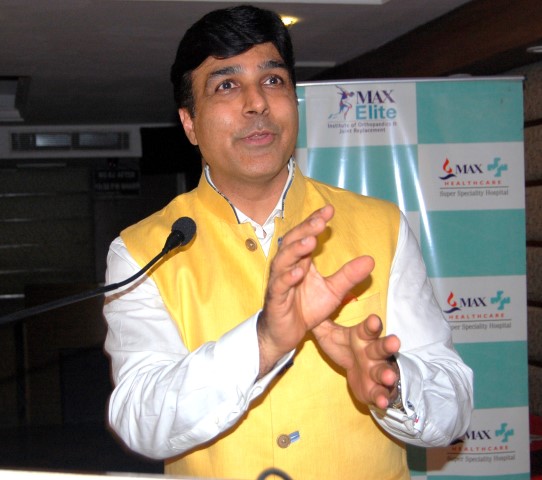 Disclosing this in a press conference at a hotel here today, Dr Manuj Wadhwa, Director & Head , Max Elite Institute of Orthopedics & Joint Replacement said that  complex cases of recent knee and hip replacement systems will be discussed in the context of total knee and hip arthroplasty rehabilitation which plays a crucial role in the recovery phase from the first day of surgery."
Talking about the importance of live surgeries in arthroplasty and arthroscopy rehabilitation, Dr Wadhwa said that these will benefit physiotherapists in understanding the technical and surgical aspects based on the anatomy of knee and hip joint comprising of joint specific soft tissue structures like ligaments, muscular tendon articulation. It will help in making them aware about the importance of particular group of muscles in post-operative rehabilitation. It will also educate them about rehabilitation protocols for specific joints post-surgery, based on the recent advancements discussed during the surgeries."
"In fact the conference will hugely benefit clinical outcomes for patients, as it will bring together the sharpest minds in the field to discuss, deliberate and debate on a number of relevant issues related to post-operative rehabilitation."
Speaking on the imperative need for such a workshop, Dr Wadhwa said that Physiotherapists need to be updated on newer innovations in implant technology and minimally invasive muscle sparing surgeries. Latest innovations in joint replacement surgery are attempting to make this procedure a one day hospital stay and this would require huge deal of integration between surgeons, pain-specialists and physiotherapists."
How Physiotherapists will benefit from conference:
Physiotherapy in terms of orthopedics, focuses on adequate functional mobility with respect to muscle strength and joint motion. The conference will help the physical therapist/physiotherapist to understand and modify the rehabilitation protocols related as per specific orthopaedic surgical interventions (such as total knee arthroplasty). This, in combination with advanced technology, will lead to better surgical outcomes for patients during their recovery phase.
Post-operative Rehabilitation in total knee and hip arthroplasty is interlinked with  the surgical techniques that seek the maximum mobility a physiotherapist can deliver to the patient, based on modified protocols in relation to surgical methods.
The session will comprise of descriptive illustration of exercise protocols related to live surgeries performed based on new hip and knee systems focusing on strengthening of knee and hip musculature, which in turn will optimize the activity level within the desired recovery time.