Navi Sidhu directorial based on historical events to begin shoot soon
newznew (Chandigarh) : A commemoration of the sacrifices made by Baba Zorawar Singh, Baba Fateh Singh and Mata Gujri in Fatehgarh Sahib. A story that will make your hearts soar with pride and honour, the motion poster of 'Dastaan e Sirhind', a film based on the religious history of Punjab was released in Chandigarh.  The film stars Ranjha Vikram Singh and Yograj Singh in pivotal roles.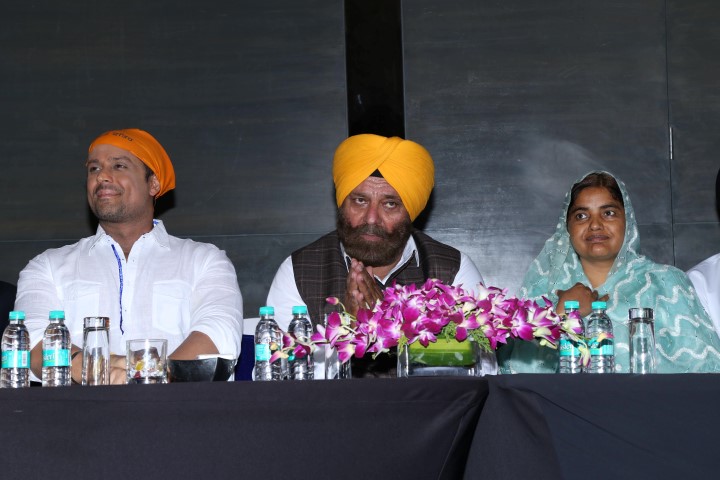 Dastaan e Sirhind is written and directed by Navi Sidhu. It is a collaborative production of Rakesh Puri, Sunny Mandawara, World Cinema Partners, Tanveer Singh and Astha Vinayaka Adventure and is presented by Raj Rahi.
Navi Sidhu, who dons the cap of Writer and Director of the film, said, "Dastaan e Sirhind is the tale of dedication towards one's religion and beliefs; a reminder of how precious our heritage is. The teachings of Gurus are written, literally, in blood and sweat. As a filmmaker it is my effort to stay authentic and sincere to their martyrdom. I hope the film teaches the right lessons to the audience."
The producers of the film said, "Gurdwaras arrange kirtans and langars on shaheedi divas in Fatehgarh Sahib. Hardly anyone pays attention to the real significance of these. This film will make us revise the important event. We are sure people will know the tale of sacrifice and unconditional commitment to the humanity."
Actor Yograj Singh said, "Sirhind holds a monumental place in nation's history. The sheer mention of Sahibzaadas and Mata Gujri brings back a rush of gratitude and reverence. I hope this film will be able to serve its purpose of making people aware of the momentous story."
Lead Actor Ranjha Vikram Singh said, "It is a proud moment for me to be a part of a film that pays tribute to the golden history of Punjab. We have heard these stories as kids from our parents and grandparents. Now, I believe, it is our responsibility to tell these tales to our next generations."
While, Paramjit Kaur Landran (Member SGPC and Chairperson of Women Commission), Sradar Amarjit Singh Gill (Sabaka Manager Shri Fatehgarh Sahib), Sardar Natha Singh (Manager Shri Fatehgarh Sahib) and Singer Ravinder Grewal were also present at the launch. The film is getting full support from Shiromani Gurdwara Prabandhak Committee (SGPC) and entire team of the film is thankful to them. The cast and crew are ready to begin with the shoot of the film. Dastaan e Sirhind is slated to release in 2017.