Mrs. Chandigarh a woman of substance auditions to be held on November 11 and 18 : Mrs. Chandigarh- A woman of substance 2018 is all set to be held on December 16 at Park Plaza, Zirakpur. Married women from Chandigarh, Panchkula, Mohali and neighboring towns can participate.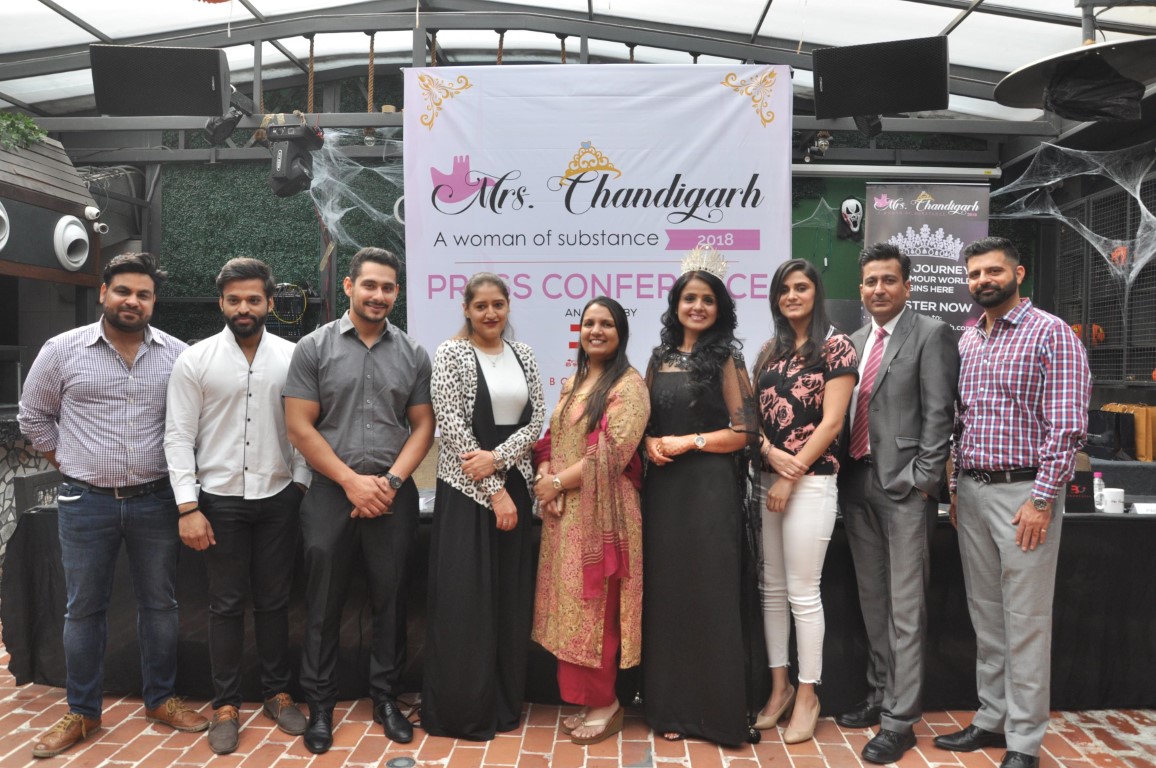 Details of this unique and conscientious beauty pageant were shared with media by Neha Julka Arora, who is the winner of Mrs. Punjab- Pride of Nation 2016, and the brain behind & Brand Ambassador of Mrs. Chandigarh- a woman of substance 2018. The event is being organized under the banner of Bombshell Creations. Neha was joined by mentors of the event which included – Ritu Gupta, Owner Kitty Bee mobile App, Dharminder Sharma(IFS), Chief conservator of soil and water conservation, Punjab.
Sharma is also Founder President of Patiala runners and Chandigarh runners and a marathon runner himself, he is one of the event's mentor too, Parinoor Ghuman, a soft skills trainer, Sakshi, owner of Cove hotel Panchkula, which is venue partner for auditions, Mr Munish Bajaj, Owner Tress Lounge, the Make up partners for the event,  Abhishek Gagneja, Owner Ultimate fitness gyms the Fitness partners of event.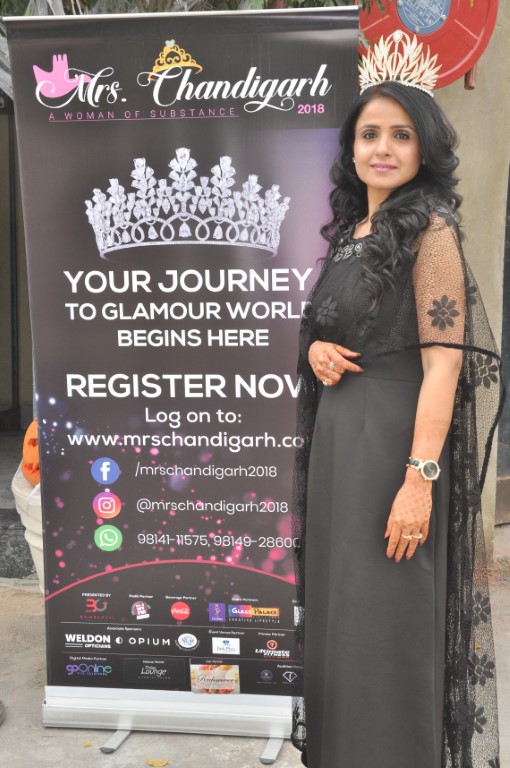 Ms Aruna Gulshan Founder and Creator of Aura Studio, a choreographer trained in Latin dance and other hip hop and Bollywood dance and a certified Zumba, F-squad, yoga instructor and a boxer, who is also a Dance instructor was also present for the event.
 "To participate the contestant should have some connection with the cities of Chandigarh, Mohali & Panchkula. Registrations are open online at www.mrschandigarh.com. Any married female in the age group of 18-45 years, can register.  offline registrations options are also there. We will be holding first audition on November 11(Sunday) at F Bar, Sec 26 and the second and last one will be held on November 18(Sunday) at Hotel Cove, Panchkula." Said Neha Julka.
 The glamour filled event will witness shortlisted finalists walk the ramp and participate in various rounds which will lead up to the final decisions. The major rounds include Introduction, ramp walk and question answer sessions regarding general awareness, individual and social lifestyles and beliefs.
"Before the grand finale on 16th December, we will hold grooming sessions on December 14-15, 2018. This will include   training sessions for ramp walk, Soft skills,  fitness, motivation, meditation, dance, makeup, social etiquette, table manners etc." Said Ritu Gupta.
 15 women will be felicitated with prizes. The titles have been drawn out creatively. these are – Mrs. Chandigarh, A woman of Substance 2018 Main Title -Winner, 1st Runner up & 2nd Runner Up, Mrs. Beautiful Hair, Mrs. Eyeconic Eyes, Mrs. Body Beautiful, Mrs. Photogenic, Mrs. Beautiful Smile, Mrs. Ramp Walk, Mrs. Talented, Mrs. Popular, Mrs. Beautiful Skin , Mrs. Congeniality , Mrs. Refreshing Beauty , Mrs. Fashion Icon,  Mrs. Getaway Goddess, Mrs. Lifestyle, Mrs. Tech Diva , Mrs. Self Believer, A Woman who believes in herself  which will be dedicated to a nominee from NGO/ Social Club. NGO associated with the event is Inner Wheels Chandigarh Harmony.
 "I feel that the beauty pageant will help in not just providing the participants with a platform to show their talent but also develop confidence in them and polish their personalities. It will empower women." Said Dharminder Sharma.
Motivation & social etiquettes will also be part of the participants' training.
 " I congratulate Bombshell Creations for organizing the pageant, which was the need of the hour as no proper platform was available for married women of tricity. This would give them an opportunity where they can completely change their lives, become a celebrity and also step into the Glamour Industry." Said Munish Bajaj
Mrs. Chandigarh aims to create & empower role models who will serve as ambassadors for world change and to enrich the perceptions of beauty.
"Through this pageant married women will get the chance to display their expertise in a field entirely different from their mundane work at home and jobs." Said Parinoor Ghuman.
The event will help in the advancement of women in every sphere while enforcing the idea of charity and communal harmony.
"Sessions on meditation, yoga, diet, fitness will be part of the grooming." Informed Abhishek Gagneja.
So, ladies brace up for Mrs. Chandigarh a woman of substance 2018, as such opportunities do not come often!