M&S celebrates milestone moment in India with the opening of its 100th store: Marks & Spencer, the iconic British fashion retailer, is celebrating a milestone in India with the opening of its 100th store in Mumbai.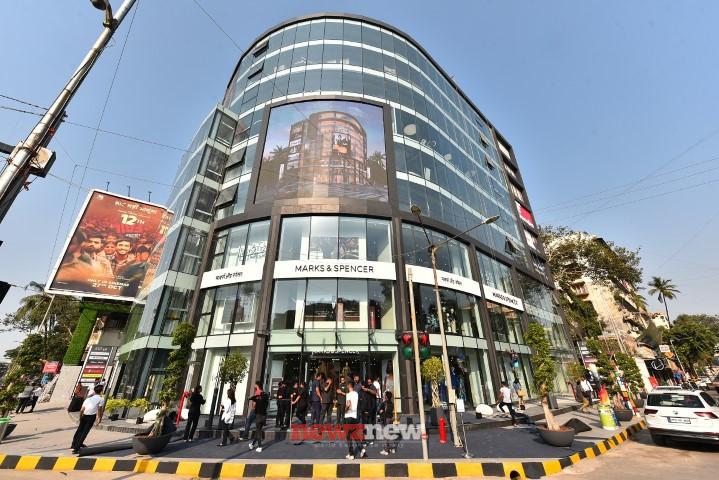 Situated on the bustling Linking Road, Santacruz, the 22,000 square feet retail haven showcases the brand's latest A/W collections across menswear, womenswear, lingerie, beauty, and homeware.
Presenting the newest Autumn /Winter '23 launch with just the right styles and trends to ring in the party season. Thoughtfully crafted with classic and yet contemporary silhouettes of the brand while being rooted in a premium aesthetic that Marks & Spencer is loved for. Curated with varied textures and fabrics that present a timeless stance on the modern clothing,
The occasion reinforces M&S' commitment to India where customers love to shop its fashionable and on-trend collections combined with exceptional customer service from its 2000 colleagues.
Located in Tier 1 cities plus new and emerging markets, M&S now has 1100000 sq. feet of retail estate across 36 cities in India.
In Tier I cities the brand is present in Bangalore, Chennai, Delhi-NCR, Hyderabad, and Mumbai with 60 stores. M&S is equally loved across its 40 stores in new and potential markets such as Aurangabad, Bhubaneshwar, Coimbatore, Chandigarh, Guwahati, Indore, Jalandhar, Jaipur, Kanpur, Kochi, Lucknow, Mangalore, Nashik, Pune, Ranchi, Surat, Trissur, Vadodara and more.
As part of the retailer's strategic focus to deliver a compelling and seamless omni-channel experience for customers, the brand will be opening six new stores over the next six months combined with its online business through its flagship website and M&S India App which now facilitates deliveries across 28,000 pin codes nationwide.
Ritesh Mishra, Managing Director, Marks & Spencer Reliance India Pvt Ltd, expressed heartfelt gratitude, saying: "I thank our 5Million+ consumers who have wholeheartedly embraced M&S's enduring style & quality, shopped our seasonal collections with so much love, and propelled us to extend our reach leading to the 100th store launch. This milestone also stands as a testament to the unwavering dedication of our 2000+ colleagues who tirelessly ensure our cherished customers discover new reasons to adore the brand every day!"
As Kriti Sanon officially inaugurated the 100th M&S store, the moment symbolized M&S's enduring style and its commitment to providing quality fashion to its patrons.
Kriti Sanon said commenting on the 100th store launch "Hi everyone Am so happy to be here today. Marks & Spencer has been a favourite of mine for many years since I love their elevated wardrobe essentials. Today am wearing this lovely blue and white ombre dress from the new autumn-winter collection. It's a great option for a busy workday. It's easy-going yet stylish and I'm feeling amazing wearing it today.
Following this momentous occasion, an exclusive after-party unfolded, hosting the crème de la crème of the industry namely the class starlets which included Gurfateh Pirzada, Anjali Sivaramana, Zeyn Shaw, Rytasha Rathore, Kashyap Shangari, Monic Choudhary, Miss Malini, Yuvika Chaudhary, Kishwer Merchant, Suyyash Rai, Smriti Khanna, Shibani Bedi, Danish Sood, and many more. The event was a spectacular blend of young and established talents, and popular names from the web streaming industry to Bollywood sensations, all grooving to the beats of DJ Nina. The air was electric, charged with excitement, as the guests revelled in delightful cocktails and sumptuous cuisine, indulging in various experiential elements meticulously curated for the evening.