Namya Joshi of Sat Paul Mittal School ludhiana gets selected amongst world's Top 100 Child Prodigies Receives 'Global Child Prodigy Awards 2022': A proud moment for Sat Paul Mittal School as Satyan Namya Joshi of Grade IX gets selected as one of the TOP 100 CHILD PRODIGIES across the globe and becomes a proud recipient of prestigious Global Child Prodigy Awards (GCPA) 2022".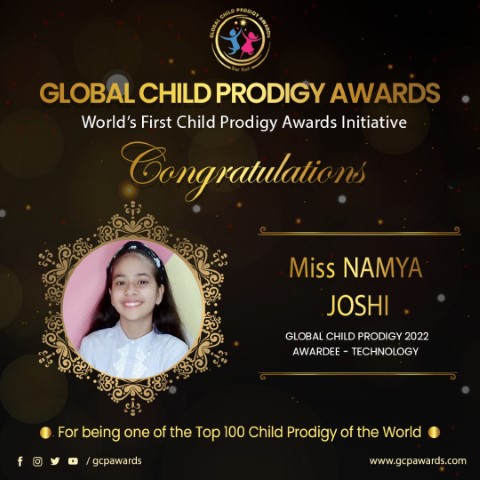 Amongst thousands of applicants from over 68 countries, Namya got selected for her exceptional talent and innovative work for this first-ever international child prodigy award under the category of Technology.
GCPA aims to recognize and award the Top 100 Child Prodigies across the globe annually and celebrate young talents from myriad backgrounds. This year, the award ceremony will be held in the last week of February 2022 in Dubai. 
Namya has bagged various awards and accolades in the past. She made the city proud by winning Pradhan Mantri Rashtriya Bal Paruskar, the highest civilian award for individuals below 18 earlier this year. She also received an award for the Most Creative Online Initiative by Jagran Josh Education Awards, 2021.
She got selected for Top 20 Under 20 Awards by White Canvas India along with Brainfeed Education magazine and also became a proud winner of Youngest Diana Award.
Living by the motto, "Stay true to yourself, yet always open to learn, work hard and never give up your dreams, even if nobody else believes", Namya is a firm believer that Each One Can Teach Ten.