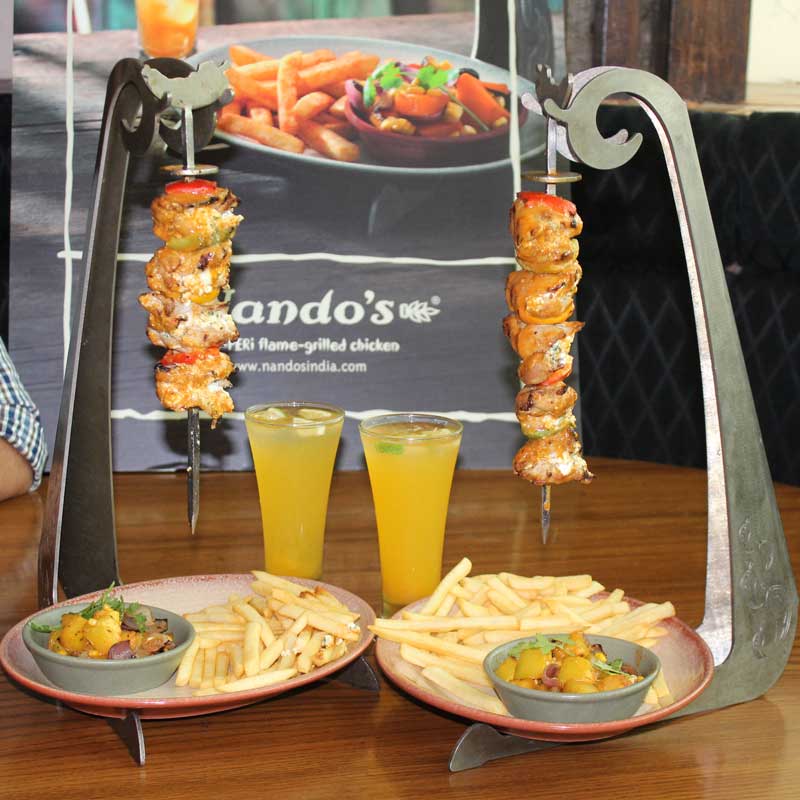 NewZNew (Chandigarh) : The South African Casual Dine Restaurant Group – Nando's today announced the commencement of 'Espetada Carnival' at their restaurant in Ellante Mall, Chandigarh. This carnival offers the Portuguese cuisine delights to the food loving people of tricity. The Espetada Carnival is made up of tender flame-grilled Peri-Peri chicken thighs, generously stuffed with garlic, parsley and feta, skewered alongside mixed peppers.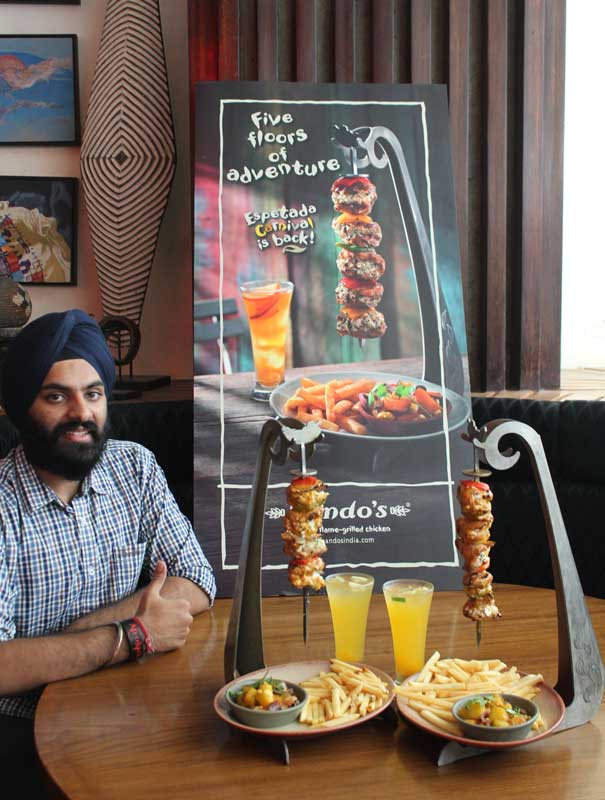 This meal gets even better thanks to the new side and designer drink introduced with it. The Espetada Carnival is served with the brand new butternut squash and cornside that add colourful feel to the meal. It is served with tasty Peri Chips. Last, but definitely not least, is a refreshingly mango sangria – a fruity mango infused drink with a spicy kick. Six well trained Chefs in South Africa along with its thirty staff will left no stone unturned to make this food carnival successful.
The Espetada is a typical Portuguese dish made usually of large chunks of chicken rubbed in garlic and salt, skewered onto a bay leaf stick cooked over hot coals or wood chips.
Nando's chicken is always flame-grilled and never deep-fried. That's right – our chicken is grilled to absolute golden perfection on an open flame. Our designed grills and the butterfly-cut ensure that the flame gets your chicken equally brown and equally succulent, from leg and breast right down to the thigh. The searingly-hot flames also burn away any fat that may have been left on the chicken – this means that Nando's chickens are lower in fat and cholesterol and are probably the leanest chickens in town! What's more, Nando's chickens are prepared right in front of you (and to your exact specifications), so you know they are freshly prepared. It may take a little longer than at other outlets, but we know that the freshly prepared taste is remembered long after the wait is forgotten.
According to Mr. Manmohan Chadha, Director Franchisee, Punjab "Our customers are drawn to the magic of the Nando's Way – the magic of our chicken, our culture and our hospitality. But never forget that we are only as good as our customers' last experience with us. That's why our future success will lie in continually romancing our customers so that they keep coming back for more."