Narvijay Yadav honoured at the International Conference on Environment: Venerable Bhikkhu Sanghasena, one of the highest Buddhist monks in Ladakh, honoured the senior journalist and environment activist from Chandigarh, Mr Narvijay Yadav for his remarkable contribution towards the protection of the Himalayan environment at the International Environment Conference held in Leh recently.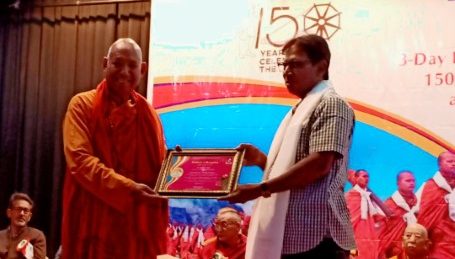 Mr Yadav is General Secretary of the Chandigarh Chapter of Save the Himalayas Foundation and has been active in the media for the past 30 years.
In his address, Bhikkhu Sanghasena said, "The protection of the Himalayan environment is important not only for its inhabitants, but for the whole world, because there is only one Himalaya in the whole world. Narvijay Yadav has made a significant contribution as the General Secretary of the Chandigarh Chapter of the Save the Himalayas Foundation, for which we are grateful to him."
Apart from the preservation of the Himalayan environment and cultural heritage, the 3-day International Conference also focused on World Peace and the 150th birth anniversary of Mahatma Gandhi.
A galaxy of scholars from around the world had gathered to attend the conference, including the Forbes billionaire from Nepal, Mr Binod Chaudhary, German environmentalist Dr Susanne von der Heide, former NASA scientist Dr Noor Gilani, environmentalist from Bhutan Dr Tashi Dorjee, Prof Ruby Kumari from Nav Nalanda Mahavihara, former Ambassador of Kazakhstan Mr Phunchok Stobdan and Dr Binny Sarin from the India Global Peace Initiative, Mount Abu, etc.
The significance of the conference increased further as the 200 Buddhist monks from Thailand also joined the meeting, who were part of the month-long Pad Yatra from Dharamsala to Leh. The annual pad yatra is organized to spread the message of world peace.